Artic Blue Globes
---
Gday
I got an Auto 1 catalogue in the mail last week, and they have those 'Arctic Blue - Brilliant white light' globes for car headlights.
Would they be the same as those hell bright white ones that Mercs and stuff have? If so, has anyone ever seen them on an XF, and will it damage the glass in front of the lights? (ive heard that some lights dull EA/EB ones..etc?)
Im thinking of a change from the normal dull yellowish light from the stock XF lights.. but they are close to $30 for a pair.. so is it worth it?
Thanks guys :s5
---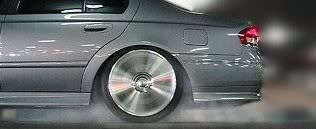 Xtreme 275.6 rwkw, 12.93 sec quater, Phoon CAI, Siemens Injectors, StealthFX BOV with
XBOX
entertainment.
defentaly worth it, i work for Super Cheap Auto we carry the same globes i have the opti blue 100/90 globes in mine and would never look back, huge diffrence and alot safer at night, because its not a clear glass the blue is not as noticable as what a BMW or Mirc headlights are but are very effective none the less, i would recomend to ne one these as they are a vast improvement over standard globes
---
INSURED BY THE MAFIA, U HIT US, WE HIT U!

White NL Fairlane Ghia, 'TQE', Superlows, Limo Tint, Pacemaker Tuned length comp spec extractors and lukey exhaust system with 5L cat, ported/polished head to flow 330hp, custom grind AU BILLET cam, chiptorque HP4 reprogramable chip, Alpine MP3/DVD/CD headunit, 550W alpine V series AMP, 12' Alpine Sub, 18" Advanti Chrome Alloys.

191.3RWHP 15.301@92MPH willowbank raceway. ghay 3.08 single spinner:(
Two SC 61's = trouble
Join Date: Jul 2001
Location: Penrith,nswAus/Morrinville.NZ
Age: 63
Posts: 6,360
Top globes makes my 100w Quarts std driving lights look yellow in comparison..
---
Don't be afraid to try something new. Remember, amateurs built the Ark...Professionals built the Titanic!
.
Tuned & maintained by "Peppertree Perfmormance". Dart block, Scat 4340 steel crank, Custom C.P pistons.Oliver rods.. Mal Wood twin plate clutch.. Twin SC61/2's,482 rwkw/ 645 rwhp..
Passengers, myocardial infarction material..
R.I.P Possum...
Registered User
Join Date: Sep 2001
Location: Melbourne, Vic
Posts: 593
---
The quote I got for the globes from the top import cars was about $300 for a pair (or was that each?). The opti blue and arctic blue are great in my XF's - but I notice that you can take a while to find a pair that won't blow in the first month. Must be something to do with poor workmanship/quality control or something ....? No warranty period for globes either ....
---
Foxtrot Oscar Romeo Delta X-ray Foxtrot
for rego you need ones that are ADR approved, retain the packaging for proof.
---
Ford to Victory!
Tickford EL XR6
Join Date: Aug 2002
Location: melbourne
Posts: 221
Does anyone know if they make these bright globes in an H3.

I have an XR6 and hate the dodgy head light spread on long night time drives.

Always have to have the high beams on to see anything.

Cheers
they're actually more dangerous to you and other drivers at night, because they cut the blue out it adds more glare. Although you percieve it to be brighter, you eyes are actually working harder to stay focused. I say waste of time and money.

Edit: They only let the blue light out, not cut it. Headlamps dont create much light that is blue though, so the light might look brighter because its a light shade but it's not as good.
Registered User
Join Date: Sep 2001
Location: Perth
Posts: 1,386
I've got bosch globes in mine, but rated at 100/90. It is so much better than the old 60/55 ones. And I also have 90W in the higbeam section. Absolutely brilliant!!

I think there quite cheap too.... cheaper than the arctic blue
---
EL driver...
Get the Phillips Vision Plus +50 globes, (Narva make a +50 also but they arnt as good ive been told?)
They are a brighter globe but the same wattage and voltage. Ive got them in mine and they made a noticable improvement, chucked a set in my bros VP and it made a decent improvement too.


Opti blues suck, I wouldnt even use them as reversing lights
---
1993 ED XR6 M5 (1 of 329)
Polynesian Green
Turbo on the way!!
1993 EBII Fairmont (Now wrecking, PM if you want any parts)
1988 Nissan R31 Skyline
I had a set in my ED & thought they were "Cool As"
Until driving on the Great Eastern Highway at about 9pm, Rain absolutely pi**ing down & found that they actually made my vision worse, only enablling me to see 10-15m ahead of me. A quick pitstop & changed em back to those narva all weather ones finally gave me the confidence to drive at 110km/hr again.....
Ricer mod maybe ... Improvement definately not
---
FORD.... "POWER TO THE PEOPLE"...

Member of the "TKTDSGM " Group..
Currently Active Users Viewing This Thread: 1

(0 members and 1 guests)
Posting Rules

You may not post new threads

You may not post replies

You may not post attachments

You may not edit your posts

---

HTML code is Off

---