Use a hair dryer, the paint might be different depending on the colour.
I use metho to get the glue off, but be sure to clean it propperly after, then hit it with some polish.
cheers
Experienced Ford Member
Join Date: Sep 2001
Location: melbourne
Age: 36
Posts: 540
the ford badge will havw hole under it i think.

Gee i wonder why why do that.
Registered User
Join Date: Dec 2001
Posts: 698
Yeah, Both badges will have holes underneath em !
The Ford one will have 2 Holes around the size of 5 cent peices, and the Falcon Badge will have 2 x 3mm Holes.

Also, to make things easier, use the hairdryer, along with some Dental Floss, to get behind the Badge, and cut between the double sided tape, and the Badge/Body work.

Cheers
Matti
Registered User
Join Date: Jul 2002
Location: In hiding
Posts: 864
The "Fairmont" badge on back of my EF didn't have holes behind it.
The "Fairmont" badge on back of my EF didn't have holes behind it.
The Falcon badge on my EF did?
---
_______

95' EF Falcon Series II
Veteran Ford Member
Join Date: Feb 2002
Location: Lamb on Chapel, Chapel Street.
Age: 31
Posts: 2,893
I see a lot of taxi's that don't have rear badges, EFs and ELs. And all of them holes in the place where the badge should be.

Sundeep
i used the exact same method as Xyphoid said.

Heat it up a bit, use fishing line to get behind the badge. use a sawing motion to cut the double sided tape between the badge and the body. then you will be left with some tape. use metho to remove the glue, then wash the area with water to remove the metho. then polish like mad.

Ive removed the GL badge and also the Alloy Head badges from my XF, and none of those had any holes underneath.. and the paint underneath came back to the same colour as the rest of the car always.

Good luck with your badges mate.
---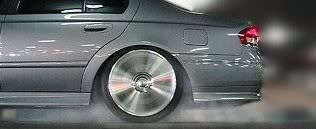 Xtreme 275.6 rwkw, 12.93 sec quater, Phoon CAI, Siemens Injectors, StealthFX BOV with
XBOX
entertainment.
Australian BA XR6 Falcon
Join Date: May 2001
Location: Perth WA
Posts: 1,249
On the Tailgate of a Falcon, they don't have any holes for the Ford oval.

EF/L has 2 holes for the Ford oval.

Kieron
Fishing line works better than dental floss.
---
The Internet is so big, so powerful and pointless that for some people it is a complete substitute for a life. - Andrew Brown
Currently Active Users Viewing This Thread: 1

(0 members and 1 guests)
Similar Threads
Thread
Thread Starter
Forum
Replies
Last Post
BA Badges!

laminge

Australian Falcons

49

12-27-02

05:50 AM

Badges

oz_orion

General Tech

1

04-13-02

07:44 PM
Posting Rules

You may not post new threads

You may not post replies

You may not post attachments

You may not edit your posts

---

HTML code is Off

---