First Mod complete! added EL GT Snorkel
---
Woohoo! feels good, even if it cost me $33 and I may never be able to tell the difference
but it is still my first mod!
Just one question though, I noticed the picture on
fordmods.tk
of the AU XR8 snorkel has a whole heap of scrap plastic on the side of the snorkel mouth, much like the standard one I just took out. However the EL GT snorkel is open from one side to the other, no scrap plastic at all. Is the EL GT snorkel wider throughout than the AU XR8 equiv?
will take a few pics tonight...

A pity they didn't put some kind of marking or symbol to show it was either Tickford (if it is) or that is was a GT part... still looks pretty good though
you'll have to excuse the dodgy image quality, guess thats what you get when you pay bottom dollar for a digital camera
the first measurement value is the measurement of the GT Snorkel shown, the second value is the measurement taken from my standard snorkel taken out.
I reckon I may have picked up on a difference too. I was driving down the freeway the other day and someone in front of me was doing 80, and we all know what thats like, so I thought I'd show him my appreciation by passing him at the correct speed limit... in other words I planted my foot
. I don't think I've ever had this much power at speeds past 80ks, it took off like it was running from a fire.
Not bad for $33.80 (Part #EFTVE 9A624 A)
Thats basically like a cold air intake isnt it?
---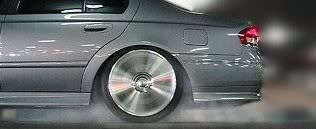 Xtreme 275.6 rwkw, 12.93 sec quater, Phoon CAI, Siemens Injectors, StealthFX BOV with
XBOX
entertainment.
yep with a larger entry point...
Wait until you try the SS inductions cold entry snorkel holy crap....
---
FORD.... "POWER TO THE PEOPLE"...

Member of the "TKTDSGM " Group..
Wait until you see how much the SS inductions cold intake costs.
---
The Internet is so big, so powerful and pointless that for some people it is a complete substitute for a life. - Andrew Brown
oh man, I almost don't wanna know heheh
Registered User
Join Date: Mar 2002
Location: Liverpool , Sydney
Posts: 212
I just recently fitted the EL GT snorkel to my AU. I ended up cutting the airbox end of the old snorkel and fitting it on the end of the new one so I could lengthen it an inch or so to stop from fouling my radiator hose.
---
Getting Old Beats Not Getting Any

AU Forte, EL GT Intake Snorkel and EF Airbox with more mods to come
Registered User
Join Date: Feb 2002
Location: Dalby QLD
Posts: 346
i`ll show you all cold air intake. give me a couple days when i get the digi camera back and i`ll post some pics.
---
EfII xr6, weld draglites, king spring superlows, Wade cam, pacemaker extractors, 2.5" mandrel exhaust, electronic shift kit and too many more to list on here.
Currently Active Users Viewing This Thread: 1

(0 members and 1 guests)
Posting Rules

You may not post new threads

You may not post replies

You may not post attachments

You may not edit your posts

---

HTML code is Off

---