Rear Parcel Shelf in XD
---
Original parcel shelf is looking a bit second hand and Strathfield Car radios told me to put at least 12mm timber up there to mount speakers under for better sound due to less vibration.
Got some craftwood as was suggested (easy to shape and plane) and used the old shelf as a template. Beautiful job. You can just imagine how good its going to look covered in black vinyl.
Time for a test fit. Bugger!!!!!!! now I know why the original is made of paper thin masonite. You need to be able to bend it up 100mm or more in the middle to get in because the shelf is wider at the back (rear window edge) than between the pillars.
I can only see 2 options. 1) Use some thin timber like 3 ply and cover it, or 2) cut the 12mm craftwood in half and install it in 2 pieces leaving a butt joint accross the middle.
Anyone done this before? Any suggestions?
---
The cop said "Do you know why I pulled you over". I said " Well, that all depends on how long you have been following me!"
Registered User
Join Date: Sep 2001
Location: Perth
Posts: 1,386
remove the backseat and slide it in, then just trim it to fit.

Removal of the backseat is dead easy
---
EL driver...
Yep I know the exact dramas you are talking about the correct way is to take out the rear window, otherwise you will just end up ripping the lining on the pillars. Yes you can cut it in two pieces or alternatively you can cut the corners out to make them rounded then fill them once they are in with some vinyl or the bit that you have cut off. That's what I did. Once it was in you could not tell the difference. I would be hesitant to cut the shelf in half. I have a custom made shelf in my garage covered in black carpet (just waiting for someone to need it)

Good luck
---
Now the proud owner of an AU xr8 220... OHHH YeAh
I did it to a mates XD... I just made it 2 piece to start with.
---
Signatures are for poofs !!

1993 EBII Fairmont Ghia 5.0L Wagon,
Lowered, Tinted, 17" Speedy Ravens & 2.5" Sports Exhaust.
( 1 of 26 built )

AND

1985 Telstar TX5 Turbo, stock as a rock.
Registered User
Join Date: Aug 2002
Posts: 96
dont know too much bout the vibration side of things but i replaced me xf rear parcel shelf but i used some sort of wood that is cross plyed ( its made of layers going in opposite directions)... the only problem i see u will have with this is that u cant use wood that thick , mine was about 7mm thick and u can go higher but u sacrifice flexability... by using this wood u can bend the wood and slide it in and of course the rear seat must be removed to do this right because it must slide a bit under the seat and if u do the jobe right u can get it under the rubber seals that go round the bottom of the window ... this way lets u use the old parcel shelf as a stencil and u can still keep it one piece... i too tried it with 2 bits but found it a bit shabby and rattly and with my setup i had 6"9" in the back and never ever had rattle problems just make sure when u cut it from the stencil u make it a bit bigger and try and fit it , u will notice that certan bits hit the car and those need to be cut down . keep doing this until u get a nice tight fit and when u mount the speakers u bolt them through the board and the body of the car this prevents rattles....hope this helps!!!
Mine was made with MDF (about 15mm thick?).

It cannot be bent, so i made it so it would slide straight in (it isnt as wide as the original one), but it fits in will. I then fitted the 7x10's into holes made in the MDF and the metal parcel shelf. The screws went through the MDF and the metal and pressed them together to stop vibrations.
I ended up covering the whole thing with thin black carpet-like material and you cant even tell theres speakers there. It all sits flush and it doesnt make any difference to the volume.
---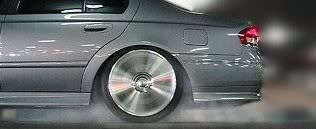 Xtreme 275.6 rwkw, 12.93 sec quater, Phoon CAI, Siemens Injectors, StealthFX BOV with
XBOX
entertainment.
Thanks for the contributions on this one.

I can see that the other alternative is to take the rear window out then fit the shelf and refit the window. Not having fitted windscreens before I can't speak with any authority but it looks like it would be very difficult to refit the rear screen as the bottom rubber needs to sit under the shelf.(when your using 12mm shelf)

A split shelf or ends that drop in later seems to be the go!
---
The cop said "Do you know why I pulled you over". I said " Well, that all depends on how long you have been following me!"
Currently Active Users Viewing This Thread: 1

(0 members and 1 guests)
Posting Rules

You may not post new threads

You may not post replies

You may not post attachments

You may not edit your posts

---

HTML code is Off

---