Swapping Engines..
---
Its been exactly a year now.. and im finally asking the question..
But ive got a recon 4.1L carby in my xf now.. and before it was a 3.3L carby. (the 4.1L's were more common in the xf's.. and shitloads more powerful :s5 )
So now theres a new engine number, different capacity... etc.
Was I supposed to have notified anyone (insurance.. etc) about this swap? And/Or shoud I do anything now?
Thanks
---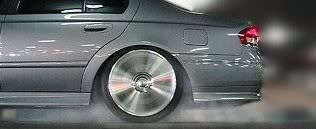 Xtreme 275.6 rwkw, 12.93 sec quater, Phoon CAI, Siemens Injectors, StealthFX BOV with
XBOX
entertainment.
Re: Swapping Engines..
---
Originally posted by XF Falcon

Was I supposed to have notified anyone ..............
Rego Authority - YES
Insurance - YES
Neither are likely valid otherwise?
Do it before you need-em!
---
Territory - WHEELS COTY
I'm pretty sure here in perth, you need to pass the pits when you change your engine size. and that will be a pain in the arse if you've got even the slightest oil leak or rust spot on the car. they go through it with a fine tooth comb.

and insurance is invalid when the engine capasity is incorrect. the premium varies for the different engine sizes.
---
Best wishes
P.S. you didnt used to work in balcatta did you?

there was a car exactly the same as yours that was across a vacant block from me.
---
Best wishes
1 bad 302
Join Date: Nov 2001
Location: Perth W.A.
Age: 70
Posts: 963
Only be a problem if you had put a V8 in it.
Power difference is only around 7.5 to 15 Kw.
Make sure you put the old black air filter housing and all the emission stuff on,make sure no oil leaks and everything works and i can't see any prob's.
Can always give it a degrease for minor weeping.
Over the years have taken a few cars over the pits and major mods can be a headache.
Looking at your car on the NET,it looks good.
I have at times borrowed standard wheels from a mate,just to get it passed. Food for thought,if you need it.
Good luck
Jon
Currently Active Users Viewing This Thread: 1

(0 members and 1 guests)
Posting Rules

You may not post new threads

You may not post replies

You may not post attachments

You may not edit your posts

---

HTML code is Off

---