Registered User
Join Date: Sep 2001
Location: Perth
Posts: 1,386
Twin Carby
---
Seems that an oppurtunity has risen itself. Twin carby manifold and carb's(need rejetting) for a 250 crossflow. The price is very reasonable, but i want to get some input from you guys.
I would install it all myself(doesn't seem too hard) but something that i've always thought about is what if one carb is not in complete sync with the other?? Or is there some form of link between the two, so this is never the case??
Also, would there be a big perfomance gain vs fuel consumption??
And would i be wasting my money if i don't have extractors.
A few questions i know, but all responses are welcome.
Cheers
Matt
---
EL driver...
he he he thats the one i "the market" isnt it i thought bout it but thought hmmm nah my motor isnt hot enough for it to be warranted
also id do extractors first, then cam tehn the twin carbs if it needs it but i mean buy it by all means i would if i could afford it and fix it all up
I've got an extractors/2.5" setup. No other engine mods appart from that.

What benifits would such a setup give? And would the fuel consumption be much worse?
---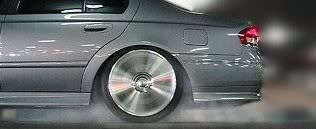 Xtreme 275.6 rwkw, 12.93 sec quater, Phoon CAI, Siemens Injectors, StealthFX BOV with
XBOX
entertainment.
Two SC 61's = trouble
Join Date: Jul 2001
Location: Penrith,nswAus/Morrinville.NZ
Age: 63
Posts: 6,360
Fuel consumpsion depends on your right foot!!! But years ago I fitted a 350 Holley and manifold on X-flo and fuel consumption went down heaps for I didn't have to kick it down much got heaps of acceleration in the higher ratio [c4 auto]. Alot depends on how its set up, make sure you have adjustable linkages between carbs or spring and screw like Webers sidedroughts..
Deff. need good exhaust to make any difference.
---
Don't be afraid to try something new. Remember, amateurs built the Ark...Professionals built the Titanic!
.
Tuned & maintained by "Peppertree Perfmormance". Dart block, Scat 4340 steel crank, Custom C.P pistons.Oliver rods.. Mal Wood twin plate clutch.. Twin SC61/2's,482 rwkw/ 645 rwhp..
Passengers, myocardial infarction material..
R.I.P Possum...
Currently Active Users Viewing This Thread: 1

(0 members and 1 guests)
Posting Rules

You may not post new threads

You may not post replies

You may not post attachments

You may not edit your posts

---

HTML code is Off

---