what tha?
---
I have shown a pic here where an object has been highlighted in yellow. What is this tubular part called and what does it do? Is it like an air intake to the air cleaner?
---
EL Manual XR6 For Sale...
PM for details...
Wheres the pic? :s5

Sounds like you are talking about part of the crankcase recirculation system.
sorry here it is
---
EL Manual XR6 For Sale...
PM for details...
my mate has a honda civic 1980 model (dont laugh) and has this thing hangin out... just wonderin what it is


ps. obviously doesnt have that engine in it lol
It is a thermo switch which directs hotter air into the intake to help with cold air starting. There should be flap inside the intake which opens and closes.
could ya connect up a pipe with lets in direct cold air?
---
EL Manual XR6 For Sale...
PM for details...
Yeah you could, although in the GT's case, its got the best cold air intake on it... a shaker sticking out of the bonnet :) I'd say that a very high proportion of the air going into the air cleaner housing on the GT would be through the shaker, and a small bit would be coming through that side inlet, so a pipe going into there wouldnt make a huge difference I'd imagine.

On the other hand... your mates civic would probably benifit slightly from having a cold air pipe connected to it, as it currently would be sucking in warmer under-bonnet air during operation if the end is open in the engine bay like the GT photo.

my 2 cents :)
---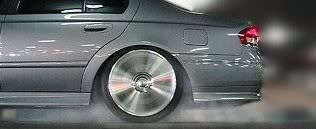 Xtreme 275.6 rwkw, 12.93 sec quater, Phoon CAI, Siemens Injectors, StealthFX BOV with
XBOX
entertainment.
today we pump some 2.5 inch piping on the end of it and fed it out through to the front of the car, so its getting direct cold air...
Why didn't you just block the hot air pipe off?
Currently Active Users Viewing This Thread: 1

(0 members and 1 guests)
Posting Rules

You may not post new threads

You may not post replies

You may not post attachments

You may not edit your posts

---

HTML code is Off

---