Registered User
Join Date: Jul 2002
Location: Perth WA
Posts: 16
Wreckers in Perth
---
hey peoples... i was just wondering if anyone has any good experience with any wreckers in Perth.
Im not after any parts atm but would like to know if there are any good wreckers here that sell good parts, cheap.
cheers
Ent.
Registered User
Join Date: Sep 2001
Location: Perth
Posts: 1,386
theres a place on embleton ave, in embleton! You can help yourself to pretty muchh everything but I don't know what its called. The last time i went there(6months) they had no idea what a bumper was!!! This made negotiation very very easy!!

I got a side mirror for the XF for $5....complete!

Don't know what ther like now but give it a go
---
EL driver...
haha awesome!
finally some wreckers that dont charge an arm and a leg =)

Having said that, theres a place in Osb Park (forgot the name sorry!) that was fairly cheap. I got a whole air cleaner housing and pipes for around $10, which I later chopped up for a custom job I made.

i'll try find the name.
---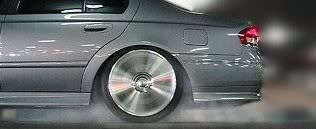 Xtreme 275.6 rwkw, 12.93 sec quater, Phoon CAI, Siemens Injectors, StealthFX BOV with
XBOX
entertainment.
Registered User
Join Date: Jul 2002
Location: Perth WA
Posts: 16
u guys got the names or phone numbers of these places by any chance?


need a part after all.
im after a snorkel connected to the air filter for my EF and dont wanna cough up the $160 i got quoted from ford for a new one.
Registered User
Join Date: Sep 2001
Location: Perth
Posts: 1,386
Sorry, not sure of the name. But just have a look through the yellow pages for wreckers, and try each one till you get the cheapest...
---
EL driver...
If you are just after the snorkel you should get the EL XR8 snorkel, it is also the same one used on the EL GT. I bought one from Ford for around $40 brand new. If your car is a 6 cyl then the snorkel from the AU T Series will also fit and it is cheaper than the EL GT one, and also has Tickford wings on it.
---
Go The Roaring Fords !!
Australian BA XR6 Falcon
Join Date: May 2001
Location: Perth WA
Posts: 1,249
I usually try Forparts in Landsdale, just off Gnangara Rd, plenty of late stuff in stock, and decent prices too, paid about $150 all up for complete EF Cruise Control a fw months back for instance, Wanneroo wreckes wanted $250, EfTrip Comps go for $100 an Forparts, $150 at Wanneroo Wreckers, I even got some 81 LTD taillights for a guy in NSW way cheaper than he could get them.

And if you go that way, go for a drive thru Landsdale suburb, I think its Ford country, heaps of XR's (including mine !)

Kieron
I go to the ones in Garling Street O'Connor. There are several side by side so you can shop around without doing lots of ks.
---
Regards Blue
Currently Active Users Viewing This Thread: 1

(0 members and 1 guests)
Posting Rules

You may not post new threads

You may not post replies

You may not post attachments

You may not edit your posts

---

HTML code is Off

---