the man who cares
Join Date: Jul 2002
Location: newcastle
Posts: 29
250 C/F under bonnet superchargers
---
i have given up on the efi conversion and i am now considering the supercharging aproach
does any one know of conversions available and info on mods for the engine for this conversion
also a cost price aswell
thanx guys wanna smoke vl's
Veteran Ford Member
Join Date: Jul 2001
Location: In a Dark Cave
Posts: 5,316
Re: 250 C/F under bonnet superchargers
---
Originally posted by XF ute EFI 2B
thanx guys wanna smoke vl's
Dunno how you will fit one in your mouth :oo1:
LOL@XA

I think you will find the turbo option a better choice. There are quite a few being done with impresive results.
Veteran Ford Member
Join Date: Jul 2001
Location: In a Dark Cave
Posts: 5,316
It seems that superchargers dont run the same boost as the turbos out and about .. I don't know if this is a choice or a mechanical limitation though.
Two SC 61's = trouble
Join Date: Jul 2001
Location: Penrith,nswAus/Morrinville.NZ
Age: 63
Posts: 6,360
Talk to a Jap importer, they have heaps of second hand turbo's for around $350- $500 with bearing turbo,water cooled bearings and wastgate included..With out efi you can't run an intercooler so low-ish boost under 7 Lp with S.U or Stromburg as carby...

Could use blower off V6 Commodore or imported one off V6 U.S Ford,I have seen in Parts peddler..
---
Don't be afraid to try something new. Remember, amateurs built the Ark...Professionals built the Titanic!
.
Tuned & maintained by "Peppertree Perfmormance". Dart block, Scat 4340 steel crank, Custom C.P pistons.Oliver rods.. Mal Wood twin plate clutch.. Twin SC61/2's,482 rwkw/ 645 rwhp..
Passengers, myocardial infarction material..
R.I.P Possum...
Registered User
Join Date: Jul 2001
Location: Melbourne, Australia
Posts: 55
okay so it's around $400 for a 2nd hand turbo, fair enough... but can someone give me a rough estimate on how much it's going to cost for the exhaust manifold to suit and for the piping? Thanks guys!
-Waz
the man who cares
Join Date: Jul 2002
Location: newcastle
Posts: 29
so if i decided to go the turbo
what would i need to do to the motor to get the best from it
must stay under 0.25 ppd.
Join Date: Dec 2001
Location: Adelaide SA
Posts: 228
---
Well done SA pollies (for once). Hoon laws are long overdue to protect car enthusiasts against idiot drivers.
---
On the Seventh Day God Created FORD
New Ride ------> 71 XY 351 9" 3.9 C10
Just got it started Animalistic I tell ya
http://www.freewebs.com/tzenu
Man that turbo XE sure is something hey!
I never get sick of watching the video of it.

And XF ute EFI 2B, whats made you stop wanting to convert your car to EFI?
I want to do this exact thing as soon as I find a donor EFI car nice and cheap. I didnt think it would be too hard.. just a matter of swapping the computer and all the EFI stuff, and changing the fuel pump.
Am I totally neglecting something here, or is it as simple as this?
---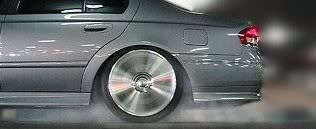 Xtreme 275.6 rwkw, 12.93 sec quater, Phoon CAI, Siemens Injectors, StealthFX BOV with
XBOX
entertainment.
Currently Active Users Viewing This Thread: 1

(0 members and 1 guests)
Posting Rules

You may not post new threads

You may not post replies

You may not post attachments

You may not edit your posts

---

HTML code is Off

---