Fog Lights For Ba
---
does anyone know where i might be able to pick up aftermarket fog lights for my BA XT. I dont think Ford sell them and i keen on picking up a set. Also if i do find some are they very hard to install?

thanks
David
---
'Dec 03 BA Falcon XT - Tint | Cruise | 17" Alloy Wheels | BA SR Kit | | SSS Auto | Front Power Windows | Scuff Plate Inserts | 2.5" Mild Steel System | Pacemaker Headers |
////Alpine 600 Watt 12" Sub | Lanzar 1000 Watt 4 Channel Amplifier |
Possible Future Mods
- Cornering Lamps
- Colour coding Sidemoulds, Mirrors and Front Grille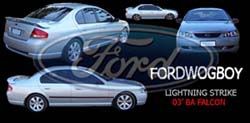 Re: Fog Lights For Ba
---
Your best having a look at
www.hella.com.au
.
They have some squareish foglights that may fit your bumper where the holes are for the Turning Lights on the Ghias etc.
Best going for a drive down to autobarn and maybe having a look under the front bumper to see if you can screw/attach a set of these somehow.
Re: Fog Lights For Ba
---
yeh i went down to autobarn the other day they have some hella driving lights for $90. my local ford dealer have the genuine fairlane cornering lamps for the same price do i dunno what i will do. thanks though.

Cheers
Dave
---
'Dec 03 BA Falcon XT - Tint | Cruise | 17" Alloy Wheels | BA SR Kit | | SSS Auto | Front Power Windows | Scuff Plate Inserts | 2.5" Mild Steel System | Pacemaker Headers |
////Alpine 600 Watt 12" Sub | Lanzar 1000 Watt 4 Channel Amplifier |
Possible Future Mods
- Cornering Lamps
- Colour coding Sidemoulds, Mirrors and Front Grille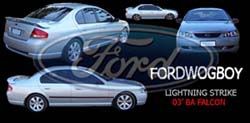 Re: Fog Lights For Ba
---
Depending on how the Ford ones are wired, you could probably easily rewire them to be foggies.
---
2002 Focus CL Hatch
too slow..............for now
Re: Fog Lights For Ba
---
u can rewire em as foggies... but don't expect them to be a bright light that u can use as foggies...
they're cornering lamps.. and point the wrong way.

Go the ford ones anyway!
---
1995 EF II Falcon GLi: Heritage Green, 4spd Auto, AUII 17" Rims, Custom BA Front Bar, Lowered, Gas Research LPG, Clear Indicators, JVC MP3 Headunit, Phoenix Gold 6.5" Splits, Coustic 481QE Amp, Clarion 12" sub, Leather Seats, Power Window Conversion, 3.45 LSD, Pacemaker Comp Extractors, 2.5" Exhaust, Mandrel Bent Intake, High Flow Filter, Wade 1004 110 cam.
In Progress: BA XR Side Skirts, BA XR Rear bar, BA Shifter Handle.
Gear in this thread - Powered by O'Reilly Auto Parts
Currently Active Users Viewing This Thread: 1

(0 members and 1 guests)
Posting Rules

You may not post new threads

You may not post replies

You may not post attachments

You may not edit your posts

---

HTML code is Off

---