Very happy GT-P owner
Join Date: Nov 2001
Location: Wagga Wagga, New South Wales
Posts: 461
Update on AUII XR dash illumination
---
After mucking around with the blue condoms with no success with the needles, the minister of finance came up with an idea to place dark blue cellophane behind anything I wanted to come out blue.
It works and it looks bloody fantastic. Ive even been able to leave the Tickford logo white
What you do is:
remove the instrumentation from the dash.
Take off the shroud, carefully the lugs arent strong
remove the needles.
Carefully pull the face from the plastic diffuser, its stuck on with a gel type glue.
Turn the face upside down and place the cellophane (whatever colour you want) over the bits you want to shine as blue, eg, speed indications etc. cut out the bits you want to leave original, eg, red bits, Tickford logo.
Place face back on diffuser, replace needles, tacho and speedo need some setting up, replace shroud and put back in car, switch lights on. WOW.
Any questions please ask.
I will place a photo when I get one done.
---
Terry Stevens
2005 Rapid BF GT-P
Interstate Member - FPV&XR Car Club SA
www.fpvxrclub.com.au
photos, photos, photos !!!!!

:)
---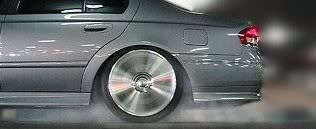 Xtreme 275.6 rwkw, 12.93 sec quater, Phoon CAI, Siemens Injectors, StealthFX BOV with
XBOX
entertainment.
yeah photos please :)

Hmm I dont think i'd be game to take my dash apart like that!
Very happy GT-P owner
Join Date: Nov 2001
Location: Wagga Wagga, New South Wales
Posts: 461
Taking the dash apart is a piece of cake, just take it slowly and carefully and the thing comes apart real easily.
I will have some photos later this week when they are developed
---
Terry Stevens
2005 Rapid BF GT-P
Interstate Member - FPV&XR Car Club SA
www.fpvxrclub.com.au
Currently Active Users Viewing This Thread: 1

(0 members and 1 guests)
Posting Rules

You may not post new threads

You may not post replies

You may not post attachments

You may not edit your posts

---

HTML code is Off

---