Registered User
Join Date: May 2010
Posts: 10
Need to replace 96 Explorer Power Lock Actuator
---
I Have purchased 2 power lock actuators for my 96' Explorer and have alraedy replaced the one in the rear lift gate which was relatively easily done, but now I need to replace the one in the passenger side rear door. Does anyone have instructions on doing that? I have searched and only found for newer Explorer's that the window has to be dropped down and then remove the door handle and the whole latch assembly to get to the power lock actuator. I am hoping that someone knows an easier route in replacing it.
Thanks for everyones help!!
Cherokee
Re: Need to replace 96 Explorer Power Lock Actuator
---
Removal
1. Remove door/liftgate trim panel.
2. Drill out retaining pop rivet.
3. Rotate actuator motor forward and twist rod end out of door latch.
4. Disconnect wire harness plug at motor connector.
Installation
1. Connect wire harness plug at actuator motor connector.
2. Connect actuator motor link to door latch, and rotate down into position.
3. Install door lock actuator motor in door with pop rivet.
NOTE:
Pop rivet must retain actuator bracket securely. A loose bracket will affect actuator function by causing a loss of travel, or by causing binding or rattle.
4. Check for proper operation.
5. Install door trim panel.
NOTE:
Old motor bracket must be replaced with new bracket which is supplied with replacement actuator motor assembly.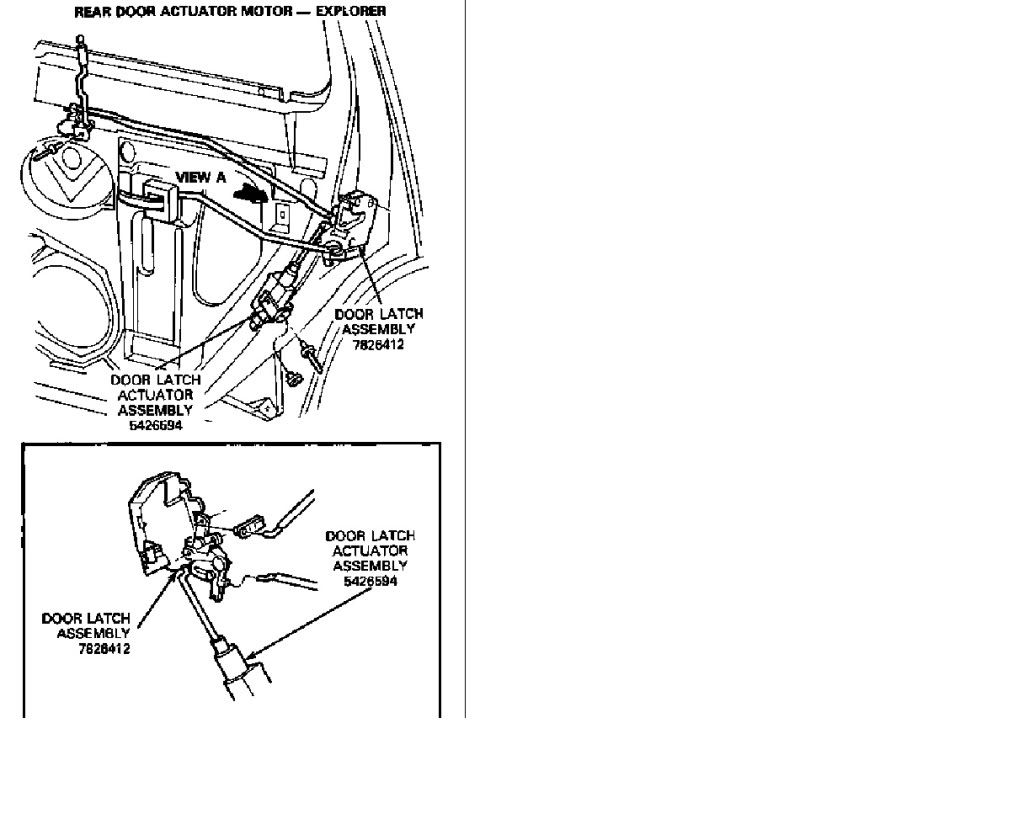 ---
Bert
Registered User
Join Date: May 2010
Posts: 10
Re: Need to replace 96 Explorer Power Lock Actuator
---
I have found that you can take a flat screwdriver and pry the actuator out of the bracket instead of drilling out the rivet which saves time and then you do not need to worry about the bracket being lose. I have removed the actuator from the bracket but still having a problem rotating the actuator to where the arm will come out of the latch. Thanks for the schematic.
Re: Need to replace 96 Explorer Power Lock Actuator
---
In some cases, I've had to remove the bolts to the latch to move it enough to take the link out. I've also left the bracket in before I had the pop rivet gun. It's a little tricky getting them back in and not damaging the rubber cover though.
---
Bert
Currently Active Users Viewing This Thread: 1

(0 members and 1 guests)
Posting Rules

You may not post new threads

You may not post replies

You may not post attachments

You may not edit your posts

---

HTML code is Off

---