Registered User
Join Date: Dec 2008
Posts: 1
01 escape front end noise
---
my mother's 2001 fwd escape is killing me. there's a clunk noise in the front end when you hit bumps/potholes etc. I immediately thought strut mounts/bearings, and replaced them. any time ive ever heard this exact noise, it's been strut mounts and/or bearings. the bearings/mounts i removed (originals) were trashed and cracked, definitely bad. while i was reinstalling the struts, i checked out tie rods, ball joints, and sway bar links. all are tight and intact.
the noise persists.
i just spend an hour underneath the truck and under the hood, pulling and tugging on anything and everything, looking for something loose or knocking around.
i got nothin, and it's pissing me off lol
anybody got some ideas?
Re: 01 escape front end noise
---
Check the suspension out. It may be the springs/shocks. Ford replaced the front springs on my '99 Taurus under a recall as they had a problem with cracking and breaking!
---
'11 Ram Quad Cab 4x4 SXT 5.7L HEMI (stock); 48,500m
'06 Pontiac G6 GT 3.5L 220hp; 64,000m
'12 Chrysler 200 Limited 3.6L 283hp; 28,000m
'99 Taurus 3.0L 2V Vulcan 145hp; 154,300m - Traded
Amsoil in all vehicles!
Registered User
Join Date: Jan 2011
Posts: 1
Re: 01 escape front end noise
---
dude if you do find out what it is that would be awesome...my vehicle is doing the same thing...only makes noise when going over rough surface / pothole ... Thanks 2001 ford escape with 151,000 miles ... love this car
Registered User
Join Date: Mar 2007
Posts: 4
Re: 01 escape front end noise
---
Me too. 2002 Escape. Highway speed is ok, slow speed over rough surface is when the noise happens. It is my wifes car and she is driving me crazy to fix it. I can't find anything and it is hit or miss when the noise occurs. Hard to reproduce in order to narrow it down. I went through every bolt I could find under the car and hood tightening them up just in case.
Re: 01 escape front end noise
---
For a lighter rattle, I'd look at the stabilizer links.
For a hard rattle on bigger bumps, look at the lower control arm; mine had a bad rear bushing, and was hitting metal to metal against the sub-frame.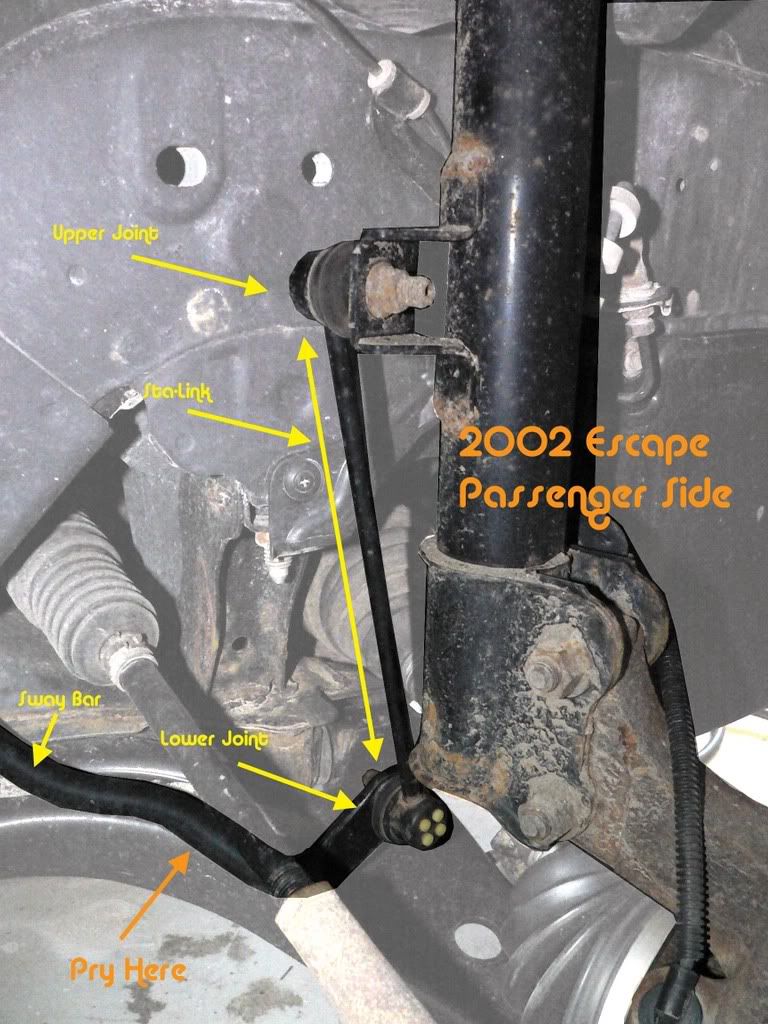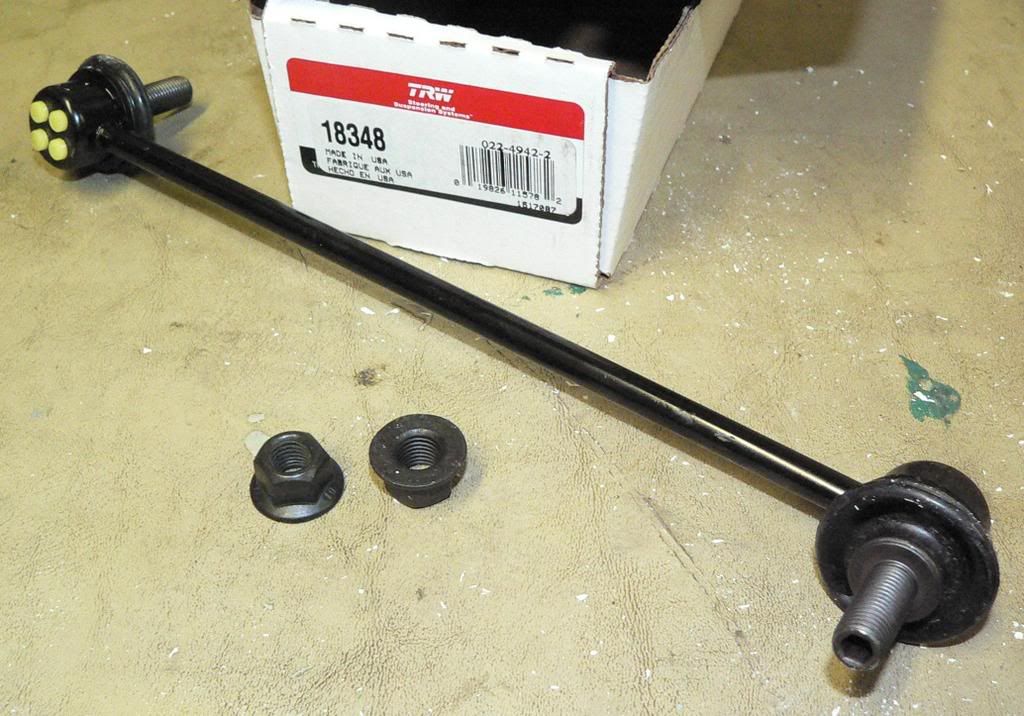 New control arm....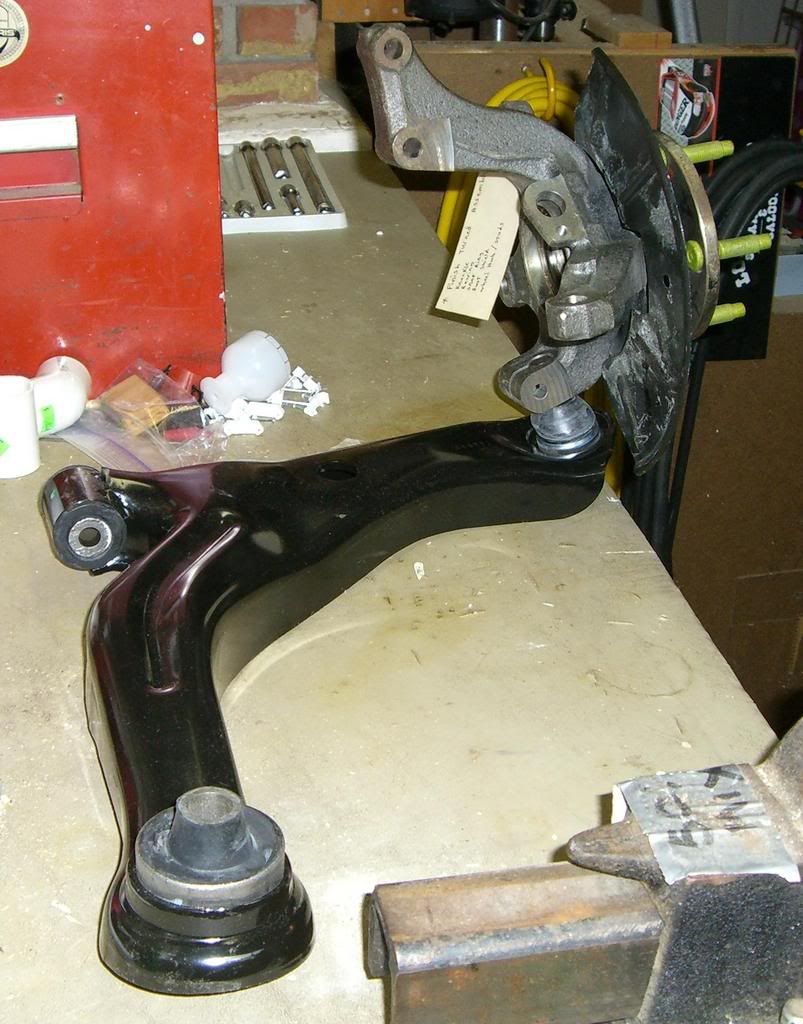 ---
ZeeVert
2002 Escape gone, 2012 Escape 4x4 V6, 2010 Escape 4x4 I4
Registered User
Join Date: Aug 2010
Posts: 62
Re: 01 escape front end noise
---
I completely agree with ZeeVert. I replaced the stabilizer links on my '04 FWD Escape with 310,000 miles and that completely solved the problem. I did this just yesterday - the only hassle was rusted bolts. Note that there is a semi-cannulated hole on the link bolt that accepts an allen wrench to prevent it from turning when you remove the nut. I also could not figure out where the sound was coming from. Similarly, everything in the front seemed tight. The links were $16 ea. at NAPA for my 4 cylinder, about $40 ea. for my 6 cylinder (I also have an '06 Escape V6 that has the SAME problem).The photos that ZeeVert shows are very good and descriptive. Note that the links may appear tight, but it doesn't take much to make that clunk. The way I found the solution to the problem was through a shop I trust that was aligning the '06. They told me of the additional problem (were right) but wanted $170 to replace the links, and just assumed that I didn't know what that was and wouldn't/couldn't do it myself.
Re: 01 escape front end noise
---
FE385 is right. It can be very difficult to feel a bad sway bar link. I had to check it twice before I found it.
Try this with two people:
Turn the steering full lock to one side.
Locate the sta-link and put your hand on it.
Have the second person gently rock the car sideways, by pushing on the door/windshield frame. It shouldn't take much.
If the link is bad, you should be able to feel it.
The two ball joints on each link should have no play at all.

I noticed that this Thread has gotten a LOT of views; over 3000! If this information helped you, please let us know. If you found a different problem, let us know.

It is very rare to have a one-sy (only happens to one Escape). It's a lot more likely that if it happens to one of us, it will happen to a lot of us.
---
ZeeVert
2002 Escape gone, 2012 Escape 4x4 V6, 2010 Escape 4x4 I4
Registered User
Join Date: Aug 2011
Posts: 5
Re: 01 escape front end noise
---
'99 Ranger 3.0 V6 Flex 2WD with a bumping/clunking noise over rough surfaces that feels like it's coming from the right (passenger) front. It's at the shop now. It's got coil suspension with torsion sway/stabilizer bar. It had new upper control arms/ball joints, lower ball joints, outer tie rod ends, and new shocks (Monroe Sensatracs) recently. It also had a 'camber kit' (Moog K8674) on one side... can't remember which the mechanic said. I rechecked all the work I did (shocks). No apparent slop in the wheel bearings. Not long ago I replaced the link from the sway bar to the lower control arm, so they should be good.

I moved rear wheels/tires to the front to no avail. Brake discs are known to be slightly off with a pulse on braking but never had a 'bumping/clunking' problem before all these new parts.

And here's the scary bit... I was on the 'I' and when I hit somewhere in the 65-70mph range, I got a nasty, alarming shudder. That's when I took the slow roads to the shop.

The mechanic (has had a great reputation for years, but I'm getting bad vibes on this deal) hasn't a clue.

Two thoughts cross my mind. Take one of the sway bar links out and see if that changes it, or blindly put new bearings in the front. I've seen a few reports of bearings not showing slop but still being bad.

Somebody in this thread mentioned rear lower control arm bushings being bad. Any ideas how to reliably check this on the Ranger?
Registered User
Join Date: Mar 2007
Posts: 4
Re: 01 escape front end noise
---
Eureka! Changing the stabilizer links (parts store called them sway links) solved the problem. '02 Escape. As stated in some of the other post, I could not tell they were bad, but changing them fixed the problem. The new ones are at least twice the diameter of the OEM parts. At AutoZone they were only about $13 each. Other parts stores wanted about $20 a piece. The ones I bought were Moog, so good quality. You do need a grease gun and need to install the grease fittings. Installation took less than 10 minutes per side. Removal of the old ones took about 3 hours. I finally gave up trying to remove the nuts and took my reciprocating saw with a metal blade and cut off the bolts from the old ones. If I would have done that in the beginning I could have done the whole job in under an hour. Removing the tire gives you very easy access to the stabilizer links.
Currently Active Users Viewing This Thread: 1

(0 members and 1 guests)
Posting Rules

You may not post new threads

You may not post replies

You may not post attachments

You may not edit your posts

---

HTML code is Off

---