Which mags for an XF ?
---
Hi guys and gals.
Im not too sure where to post this.. but I'm curious as to which rims/mags people think really suits the XD-XF falcons?
Everyone I ask isnt really too sure on which ones suit the XF's.
I borrowed some 17" rims before with 235/45 tyres on it and they fitted well. I think they suited it ok, and I could buy them off him if i want for a pretty good price.. under a grand for sure with the tyres..
I'd just like to see what other people think before I buy em. Theres pics if you click on my signature.
Also if anyones got pics or names of other types that look good lemme know. Im getting really sick of my friggin pursuits!
Thanks
---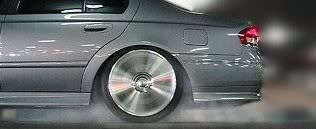 Xtreme 275.6 rwkw, 12.93 sec quater, Phoon CAI, Siemens Injectors, StealthFX BOV with
XBOX
entertainment.
Registered User
Join Date: Apr 2001
Location: Perth
Age: 44
Posts: 675
They look really nice on the XF, I'd buy 'em if I were you

I was gunna say get some E-series XR alloys, but theres quite a few XD-XF running around with those on nowdays
Are we there yet?
Join Date: Dec 2002
Location: SA - The Drift State
Age: 33
Posts: 1,621
Those mags look wild! My car looks exactly the same as yours, just with 12 slots and not as good condition.

Either those mags, or maybe EL XR8 16" mags, but if you can get the 17's for under a grand, go the ones you have
---
95 EF Fairmont 5.0 - Heritage Green - 4 Speed auto with AU S5 - 3.23LSD - 17x8" LWT Wheels - King Superlows - 76mm Cobra MAF - 65mm throttle - BPT Underdrive Pulley Kit - 3" Mandrel-bent Lukey exhaust - Tinted Windows - MP3 CD player - White faced dials.

117rwKw - 15.47@89.9MPH

---
Nothing beats the sound of a V8
Registered User
Join Date: Oct 2002
Posts: 67
Those mags look pretty sweet on your XF.
Just a thought though, if you have the latest Performance Ford mag, check out the readers cars. There is an EF in there that has a set of EB GT rims on it, these look nice, but you will probably have to pay more that a grand to get them with rubber.

Nice looking XF - I used to have one myself, I wish I never sold it.
Currently Active Users Viewing This Thread: 1

(0 members and 1 guests)
Posting Rules

You may not post new threads

You may not post replies

You may not post attachments

You may not edit your posts

---

HTML code is Off

---