Shorter Shockies for the XF?
---
howdy folks
Ever since i dumped the xf on its a$$ the front shockies havent had much room to travel.. around 1cm or less actually, so whenever it goes over a decent size bump you can hear and feel the front shockies bottoming out.
Heres a quick pic i took tonite.
The front shockies arent really doing much, i rekon they are dead now.. and replacing the shockies with the same type would be pointless as after a few decent bumps i rekon they will cark it too.
So i've been to a suspension joint, and they rekon I cant get any shorter travel shockies for my car.. and they confirmed that its pointless replacing my ones since they wont last long anyway. They said to raise the car a bit and replace the shockies... .. screw that :)
So are there any kind of shorter travel shockies I can get to put in?
Cheers!
---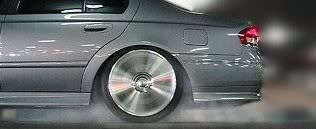 Xtreme 275.6 rwkw, 12.93 sec quater, Phoon CAI, Siemens Injectors, StealthFX BOV with
XBOX
entertainment.
the Konis I put in my XF were shorter and certainly offer more travel than that! but I think the spring manufacturer also recommended fitting a spacer between the top shock mounting bracket and then shock tower to futher increase travel
Currently Active Users Viewing This Thread: 1

(0 members and 1 guests)
Posting Rules

You may not post new threads

You may not post replies

You may not post attachments

You may not edit your posts

---

HTML code is Off

---