Registered User
Join Date: Oct 2012
Posts: 5
01 windstar is driving me up a wall..HELP, im out of ideas
---
let me start by saying hi as a new member but lets cut to the chase. I got a windstar from my neighbor to try and repair as it has been to 2 independents and 2 ford dealers to no avail. So what came to me as a van that wouldnt down shift passed 3rd, ran like garbage,had a intermitent misfire and had both the abs, brake light, cel, and battery light on all started a year ago after a coolant line that runs under the intake manifold blew and was replaced by some fly by night mechanic. The history i got was that the shops replaced all injectors, plugs, wires and the alternator twice, not changing a thing. The codes on it were for a charging system fault, a lean on bank 2 upstream (im guessing this is caused by a vacuum leak as the vents are stuck in defrost), ocassionaly a bank 2 upstream lazy code, and every abs code that you can dream of (pump, each wheel, relay failure, etc). I started out by cleaning the dust/garbage out of the pcm/ecm connector on the fire wall and so far that brought all of the abs stuff back to life and i havnt caught any codes on the abs since. So, onto the next issue, the alternator/batt light stays out until it warms up and then intermitently turns on and off, and then after its warmed up stays on full time and wont turn off until you turn it off and cycle the key a few times. But here is where it gets wierd, the van runs prefect until the battery light comes on. As soon as the bat light comes on the misfire starts and the rpms drop to about 500 and it runs like a pig until you hit over 1/2 throttle or the light kicks off and it runs great again. So here is where im at, the alternator is working, ice got 14.1 v at the battery while running and can remove the battery cables while running with no effect. the ground on the block is good as im measuring 14v no matter if im grounding at the battery post or the alternator case. So my question is, what the hell is causing this. why would the battery light affect its driveability, and why would the light come on if all is well with the charging system? The only odd thing in the wiring that ive noticed is that if measuring ground at a bolt on the body by the ecm that 2 wires from the ecm harness ground to, the meter reads open. I tried making a redundent ground from that bolt down to the battery ground and while the wire got very hot, it did not effect anything.
so where do i go from here? I dont want to throw an ecm at it but im running short of thoughts. Does this mess scream anything to anyone that im overlooking? Ive got to much pride to give up on this but it is kicking my ass.
Registered User
Join Date: Apr 2012
Location: Finland
Age: 41
Posts: 21
Re: 01 windstar is driving me up a wall..HELP, im out of ideas
---
Hi,
Don´t give up i think that it is easy fix when you find that problem =)
Have you checked that alternator wiring harness connector top of the alternator ??? Remember, that PCM controls charging system voltage... And if one of the 3 wires is not working = trouble... Also would be good idea to change both earth and plus cables... What about battery is it ok ??
Check also charging relays and fuses... for that system...
Registered User
Join Date: Oct 2012
Posts: 5
Re: 01 windstar is driving me up a wall..HELP, im out of ideas
---
Yep, checked the battery cables, alternator harness and grounds as per the test points stated by ford and all is in spec. When running I'm getting 14v from the alternator and it is working well, but the light is still on. Also, the abs lights came back on with a code for the relay failure/short I believe the code is a c1189. Screw this van, I just don't get it, I ran my own redundant grounds and it didn't change anything. Also, the tps sensor is way out o range but isn't throwing a code......?
Registered User
Join Date: Apr 2012
Location: Finland
Age: 41
Posts: 21
Re: 01 windstar is driving me up a wall..HELP, im out of ideas
---
okay..
check out these ...
that code i think is Brake fluid level sensor input short circuit to ground....
take connector off from fluid level sensor....and check that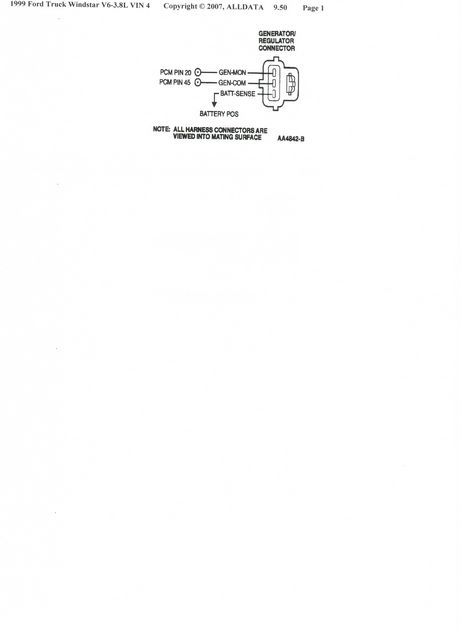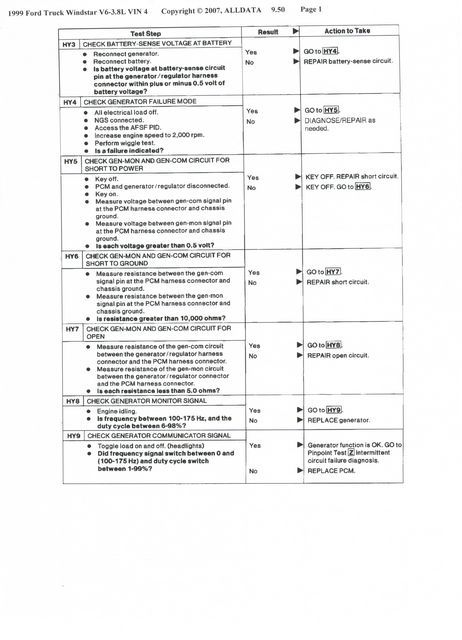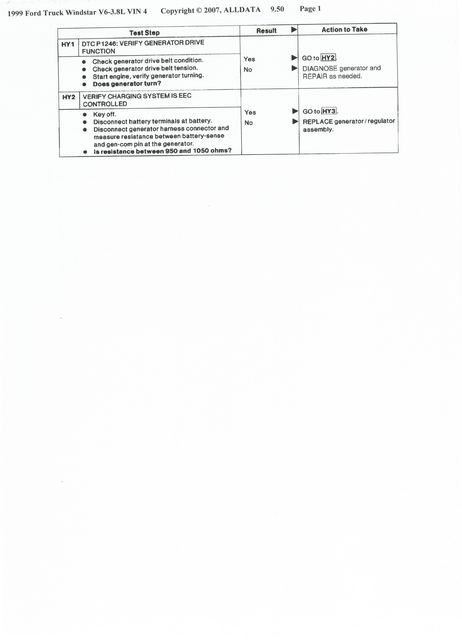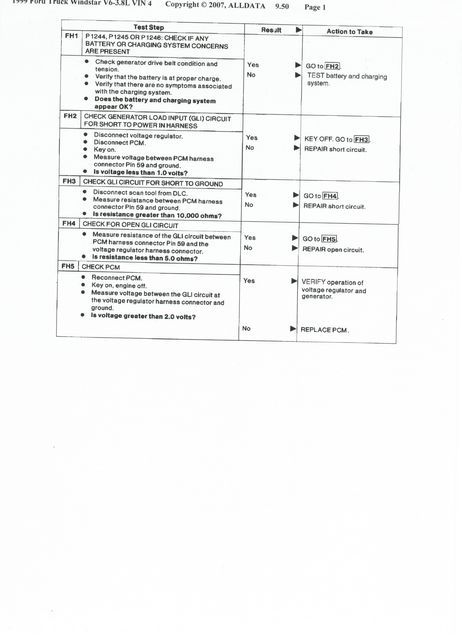 Registered User
Join Date: Oct 2012
Posts: 5
Re: 01 windstar is driving me up a wall..HELP, im out of ideas
---
ive got the service manual with those same pages and have started picking at the pinpoint tests, but have stopped as ive gotten burnt out and have to step away for a few days.

The code number i possted may not be right, but im sure the code was for a abs circuit power relay/ pump circuit failure, yet when i run the self test thru ids i can here it clicking and responding, so ive got no clue on that one.

ill start again in a day or 2 and keep you updated.


thanks for the sugestions
Currently Active Users Viewing This Thread: 1

(0 members and 1 guests)
Posting Rules

You may not post new threads

You may not post replies

You may not post attachments

You may not edit your posts

---

HTML code is Off

---