Registered User
Join Date: Aug 2013
Posts: 1
1962 Thunderbird Flip Lid Motor
---
Hi all. A few years ago, we inherited a 62 Thunderbird Sportster Convertible and I've been learning to do some work on it here and there.
Recently, I got the rear deck working and everything seems to be good but the flip lid motor wouldn't seem to complete the cycle. I was thinking something was wrong with it, so I took it off and started examining it.
It turns out I was wrong as to why it wouldn't work, it was an electrical issue.
After fixing that, though, my flip lid motor doesn't work at all now. I don't think I have the tension on the screws exactly right.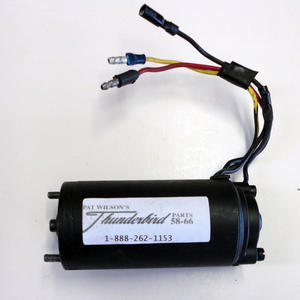 I guess I have to have it rebuilt, but I am thinking I should buy a spare. Does anyone have any suggestions for me? Where I might buy one? Or a reputable rebuilder?
Thanks in advance for any suggestions,
A restoration novice
Re: 1962 Thunderbird Flip Lid Motor
---
---
Ever notice that there's so many high performance parts available for GM products?

Did you ever think that maybe they NEED them?

Re: 1962 Thunderbird Flip Lid Motor
---
Moved to correct forum. Cat, that's the main hydraulic pump for raising or lowering the top and decklid. He is talking about the upper back panel or flipper lid that fills in the space in between the decklid and the package tray when the top is down. Marble, why not call the place on the label, Pat Wilson's T-Birds? You could also try the T-Bird Ranch. They sell reconditioned parts:
Thunderbird Ranch
---
Master ASE Certified L1 Chrysler Technician- still a Ford fan at heart.
1964 Thunderbird Hardtop- Chantily Beige- 390 FE 4V V8-Uncle's Car
1966 Thunderbird Convertible- Red- 390 FE 4V V8- Uncle's other car- waiting for paint and body work!!!
Currently Active Users Viewing This Thread: 1

(0 members and 1 guests)
Posting Rules

You may not post new threads

You may not post replies

You may not post attachments

You may not edit your posts

---

HTML code is Off

---