Registered User
Join Date: Jul 2009
Posts: 2
DL LTD Cornering Lamps!
---
Hey guys,
I've spent a lot of time scouring this forum for any information on how to convert the cornering lamps to driving lights on a 1997 DL LTD.
I've seen it done on a few EF-EL Fairmonts and thought why can't I.
I'm pretty sure I've seen the thread on here some time ago, but can't seem to find it now!
Just the links would be great but also any advice will be muchly appreciated!
Cheers Keezel!
Registered User
Join Date: Mar 2010
Posts: 3
Re: DL LTD Cornering Lamps!
---
ive put driving lights on one of my other cars and ill ive ever done is with the light it'll have a earth run that earth to the battery earth or any kind of earth on the car then run the positive to a switch or button and then run a positive wire from the switch to the battery. and that works perfectly if u want to manually turn the lights on and off :) or u could wire it up to ur head lights or parkers. but im not quite sure how to do that.
but the method of the switch is the easiest and it works well
just remember to cover all ur joins with electrical tape
Re: DL LTD Cornering Lamps!
---
You should never wire directly to the battery as indicated. It should go through a relay and fuse and legally must be wired into the headlights high beam so the the driving lights go off when you dip your lights or switch them off. Like this: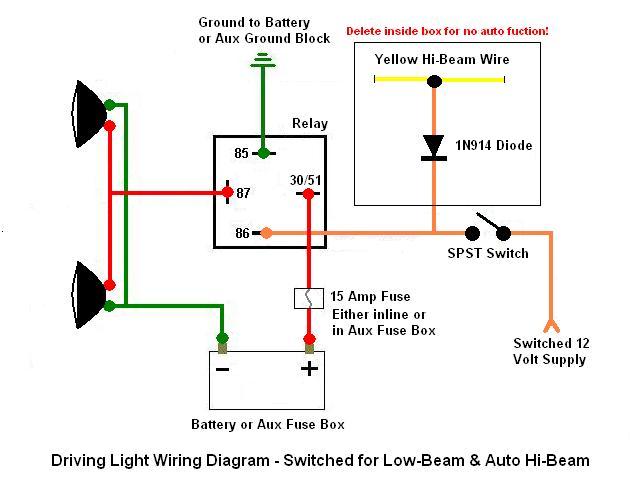 But don't delete the bit inside the box.
see also
http://www.sleeoffroad.com/technical/images/lights.PDF
or as I did just put "driving lights circuit" into a Google image seach.
It's a safety issue; driving lights draw a very high current and this should not be made to travel through long or thin wires into a switch in the cabin; using a relay sited close to the lights and battery and using short high ampage cable to connect the lights and battery to the relays means no overstresed wires and engine bay or cabin fires.
---
Regards Blue
Re: DL LTD Cornering Lamps!
---
..and if you use proper insulated terminal spade connectors there will be no dangerous, ugly and amateur joints you need to cover with insecure tape.
---
Regards Blue
Re: DL LTD Cornering Lamps!
---
an alternative with a five pin relay:
---
Regards Blue
Re: DL LTD Cornering Lamps!
---
If you look near the plastic coolant tank or just under it next to the fender you should also find a nylon spade T connector that will give you access to the high beam circuit. It may already be joined with a short link so the normal lights go on with the high beam.
---
Regards Blue
Currently Active Users Viewing This Thread: 1

(0 members and 1 guests)
Posting Rules

You may not post new threads

You may not post replies

You may not post attachments

You may not edit your posts

---

HTML code is Off

---