Exhaust 2.25 or 2.5"
---
I have rung around places in melbourne asking for their advice about whether a 2.25 exhaust is beeter than a 2.5 exhaust.
Now i have a stock carby xf with a hollow cat and xtractors
Some guys have said and i quote "Bigger is better mate" and others say the 2.25 is the way to go.
My mechanic reckons that 2.25 is the better option cuz he reckons that the 2.5 is too big and should be used for a small stock 8 or a turbo....
What do u guys and gals reckon?
---
On the Seventh Day God Created FORD
New Ride ------> 71 XY 351 9" 3.9 C10
Just got it started Animalistic I tell ya
http://www.freewebs.com/tzenu
2.25" is the way to go with xf's. The 2.5" is usually way too loud, especially if you are running a hollow cat, and you won't see any improvement over a 2.25".
Australian AU Member
Join Date: Aug 2001
Location: melbourne
Posts: 86
2.25" is the only way to go !!

Regards
Mick Webb SVO
Now.. im going against everyone else whos replied in this thread... but I've got a 2.5" stainless mandrel bent system from the Lukey extractors back, with a 3" tip on the end. I wouldnt say that its too loud on mine, and its an auto too.. so in theory it should be very droney, but its not.

The only bad thing about having the 2.5" with a real low XF is that when i have anyone on the back of my car it lowerers it just that little bit extra and the exhaust touches the diff on road bumps and you hear a *clunk* sound :) (coz the exhaust goes over the diff)


But I must confess, even my cousin who knows quite a lot about cars suggested for me to get the 2.25" coz he knows someone who put an xf on the dyno with a 2.25 and then put a 2.5 on the car.. and apparently there was no difference.. or maybe the 2.25 was better! I cant remember. :oo1:
---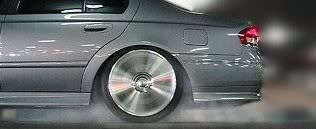 Xtreme 275.6 rwkw, 12.93 sec quater, Phoon CAI, Siemens Injectors, StealthFX BOV with
XBOX
entertainment.
Currently Active Users Viewing This Thread: 1

(0 members and 1 guests)
Posting Rules

You may not post new threads

You may not post replies

You may not post attachments

You may not edit your posts

---

HTML code is Off

---