Extractor/Exhaust Comments
---
Hi everyone.. Im finally getting a exhaust/extractors for
my XF
.
Ive got many quotes from different places with basically the exact same parts and stuff... varying from $500 -> $1050.
The place im considering wants $500 for this system:
Lukey Extractors, mandrel bent (painted black)
2+1/4" Exhaust
My existing Cat, since its still ok
2+1/4" Sports Lukey OR Undacar muffler (its not a straight through muffler, theres a little chamber in the middle and the two ends only 1/2 line up when you look straight through it... The guy recons this gets rid of the barkyness and it will sound better?)
So im open to your advice/suggestions.
If I dont hear any bad things by tomorrow morning, i'll put in the order and get it done Friday morning.
Thanks!!
---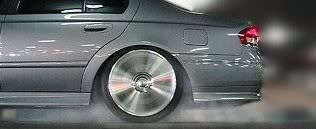 Xtreme 275.6 rwkw, 12.93 sec quater, Phoon CAI, Siemens Injectors, StealthFX BOV with
XBOX
entertainment.
Do the Lukeys have Oxygen Sensor (if you need it on XF not sure), I have pacemakers on mine and a stainless 2 1/2" system, and I 'm really quite happy with it.
Would think they could probably do 2 1/2 for around same price.
---
Run Forrest , Run.......
I dont think my car has an oxygen sensor on it.. it only has that heat shield thing over the exhaust manifold that sucks up the warm surrounding air when its cold.

And would 2 1/2" be overkill for a 6 cylinder, 3 speed auto ?
---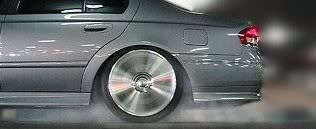 Xtreme 275.6 rwkw, 12.93 sec quater, Phoon CAI, Siemens Injectors, StealthFX BOV with
XBOX
entertainment.
Not really an expert on exhausts, but had 2 1/4 + extractors on my 186 HK, seemed OK, but a 4.1 L motor mmmmmm......
---
Run Forrest , Run.......
XF Falcon,
In my opinion i'd go for the 2 1/2inch. setup as opposed to 2 1/4inch. You will definitly feel it will open things up better and if your worried about dran and noise like i was, you can choose to have a setup that will have no droan but a nice note. I think from memory ford put 2 1/4inch's standard though it's not mandrel bent hence at some places it gets smaller.

Best to ask the guy about the different setup of resonators and hotdogs for the XF. Since your car is a sedan you can get away with using just two mufflers in your new exhaust. I elected to have another hotdog just after the cat as mines a wagon and i don't want droan and loud noise.

The other factor to consider is mild steel vs Stainless. Mild steel is cheaper but will inevitably rust quicker within 2-3years.
Stainless can go for 5 years+.

Just some thoughts.
---
Motor May 2001 Quote: "Believe it or not, there are actually a bunch of weirdos out there who reckon a six cylinder is the dux gutz. Bugger it: I'm one of them" :s5

AUII Late Ed XR6 HP T5 Venom- Full Tickford Body Kit, 17in Wheels, Herrod Bi-plane Spoiler, Momo Steer/Gear, T-Series Interior Options, Premium Stereo and a very light-tuned 4.0L I6

(FPV-Tickford Club of NSW Member and Co-Founding Member of 3FB Inc, Ford Forums Food Bandits)
---
Hi all

I've had genies and a 2" system with single turbo muffler on my XD ESP (250 Man) for over ten years now, I wouldn't say it's "barky" or over loud but compared to the wagon it's noisy.
The only problem ive had is that the clutch cable runs a bit close but yours is an auto so you shouldn't affect you. I personally wouldn't go any larger than 21/4" exhaust - still flows nicely but fits under the car nicer, especially if it's lowered.
As far as I know you should only have a Oxygen Sensor if the XF is Fuel Injected. If you're using a cat, your's is obviously unleaded A set of extractors and a good exhaust will do these the world of good.
Oh and finish it all off with a XB GT rectangular Tip these fit nicely into the cutout under the bumper and look quite trick.

Later guys
Paul B
Registered User
Join Date: Sep 2001
Location: Adelaide, South Australia
Age: 39
Posts: 18
Hi all,

I had a 2 1/4 system on my XF (4.1L, 3sp auto, leaded petrol ). All I had was a Walker Super Turbo muffler, all mild steel. I had it for 3 years and was still in good condition when I sold the car. It was not a loud system but had a very nice note. It only cost $175.
I always though the exhaust on stock EA-onwards 6cyl Falcons was 1.75inch??
And Pre EA is even smaller.

Im running just one muffler on mine, got a sweet bark to it, I love giving it full throttle through underground carparks. Im not sure what size it is, as it was on the car before I bought it. It looks like 2.25in.... I think the previous owner said it was a Lukey system??

Its definately LOUD on the outside of the car, probably not even legal, but its nice and quiet on the inside with windows up and no drone.

Ill have to make a WAV of the exhaust and post it up here one day....
---
1993 ED XR6 M5 (1 of 329)
Polynesian Green
Turbo on the way!!
1993 EBII Fairmont (Now wrecking, PM if you want any parts)
1988 Nissan R31 Skyline
Thanks for all your input fellas.

Ive been presented with another option..

I can get

Genie extractors,
2.5" exhaust
turbo muffler (not straight through)
existing cat (possibly with pipe welded straight through)

Ya rekon this is a better setup than the very first one I mentioned in the first post?
---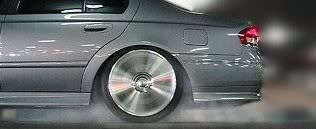 Xtreme 275.6 rwkw, 12.93 sec quater, Phoon CAI, Siemens Injectors, StealthFX BOV with
XBOX
entertainment.
Wont using your existing CAT be a waste of an exhaust system?

Since the CAT is smaller than the rest of the system it is still a restriction.

Thats my thinking anyway...could be way off target for all I know.
---
Do I really have to write something funny in here?
DILLIGAF
: a subsiduary of the
DGAF NOP
group of companies.
BSR Member
- 'Blanky' 'ConeKiller'
Go Here for My Garage Sale
Currently Active Users Viewing This Thread: 1

(0 members and 1 guests)
Posting Rules

You may not post new threads

You may not post replies

You may not post attachments

You may not edit your posts

---

HTML code is Off

---