Custom made tools.
---
This first one is a timing pin, and timing cam bar I had pops make for my Ford Focus Zetec DOHC 2.0l.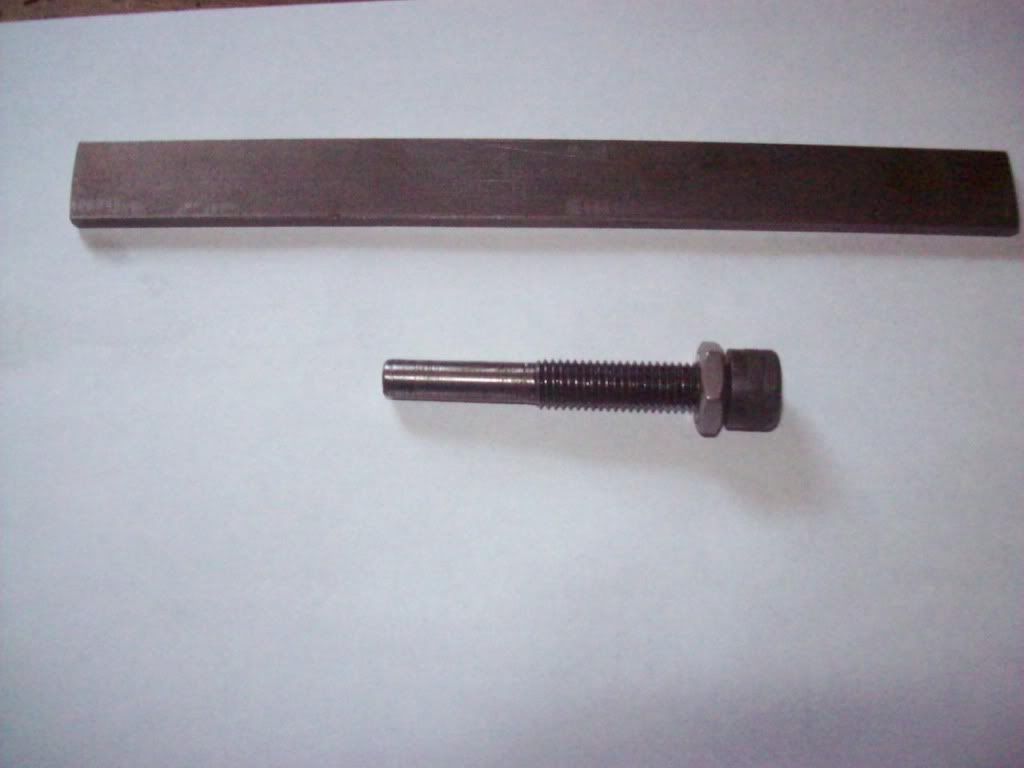 And this other tool, is another one I had pops make to push my CV axle out the knuckle to be able to take the CV axle out of the Ford focus Zetec.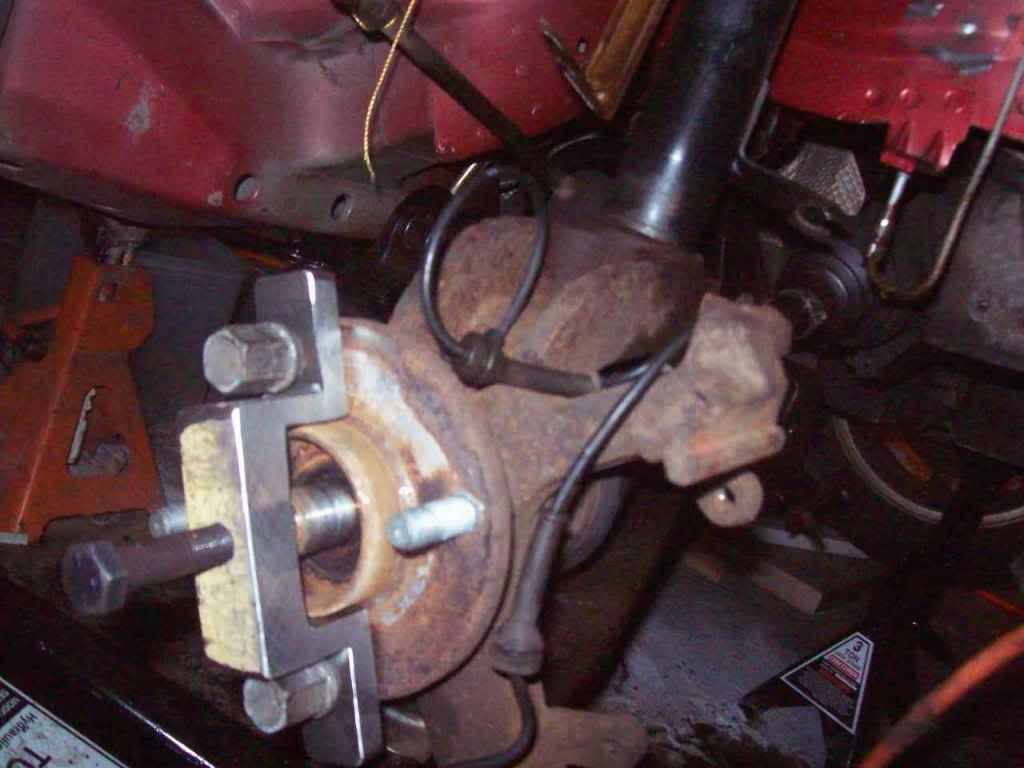 Now my pops is a CNC machinist, but if you have some advance tools at home you could make this.
Re: Custom made tools.
---
Very handy having a father who is a CNC machinist and can design / make tools as and when required . Especially when your working at home and dont have access to the drawers / pullers and other equipment found in garage workshops .
Re: Custom made tools.
---
I know this ain't a tool but look what pops just got done doing in his shop at work. It's for the cat on my Zetec 2.0l Focus.
Had to make a little adjustment here at home so that it would bolt to the block bracket right, but other then that it came out the way it was needed.
ford wanted $136 for this bracket, we made it for under 15 bucks in stainless steel. This is another thing that would require a CNC machine or EDM machine.
Re: Custom made tools.
---
Just wanted to share these two tools I just got them to be able to pull a metal ring stuck on a shaft for my rear drum brake on my focus wagon, and the other tool is a spring compressor for the lowering kit I have for the Ford Focus zx3.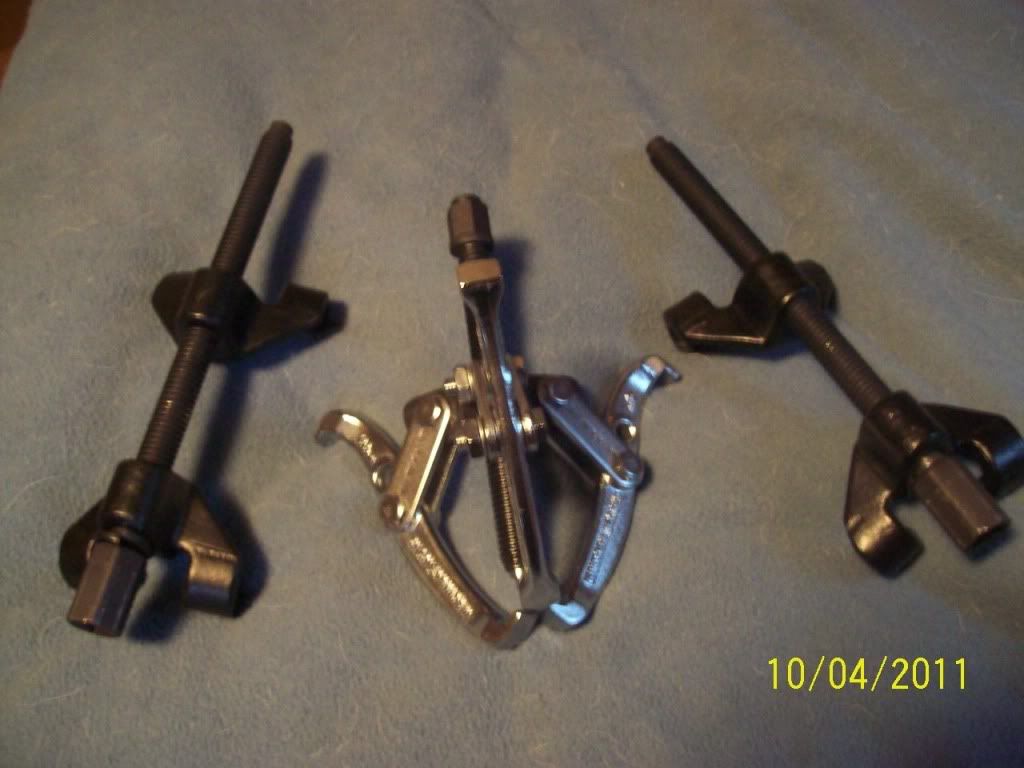 Re: Custom made tools.
---
Here is one more, that pops made to be able to push a bolt out of a bushing on my rear lower control arm on the Focus.
It didn't work, but it's a useful tool, he even took the arm to work, and tried to push out the bolt, and nothing after applying 800 Lb's of force. So we ended up getting new ones with new bushings and bolts.
Registered User
Join Date: Jun 2009
Posts: 163
Re: Custom made tools.
---
Must be nice to have a machinist in the family!!
Re: Custom made tools.
---
Yes it is, and lately I have been thinking I want to learn the same skills?
Registered User
Join Date: Feb 2015
Posts: 165
Re: Custom made tools.
---
It would certainly be an excellent field to go into. Only thing I don't like about it is how the skill demands by companies keep going up and up but the pay going the other way and horribly. Here jobs that used to pay $25/hr, they think they shouldn't have to pay $15 for now. The difference 4 years makes...............

I make pretty much all my tool's by hand and with no machine shop even. Take the DOHC camtool/crank pin set in top pic. Made mine for maybe $6 for both. I pretty much make up all my specialty ATX tools for pennies as well. I made up a wooden equivalent of the Ford 3 point FWD engine support tool that fits in between car fenders to lift and hold engine/trans for $35, it works great.
Registered User
Join Date: May 2015
Posts: 3
Re: Custom made tools.
---
Another reason why a skilled trade is so awesome. It can't be outsourced very easily, and in this case you can make your own parts.

Apparently, they're not immune to plummeting wages, however. That's a real shame.
Registered User
Join Date: Feb 2015
Posts: 165
Re: Custom made tools.
---
Not so, most of the 60,000 factories closed (that is the number being bounced around on the latest Pacific rim trade dealings) were that type of work. MOST machine shop work is now done overseas. The only small bit that isn't will be on-demand instantly needed work. Anything that makes parts that then go in a box to ship later can be made elsewhere. Why the plummeting wages, they wouldn't if the job could not be replaced.

Like my chosen trade, printing. Great chunks of it now done in China, but the last 15 years I was in 24 hr. turnaround work that had to deliver all over the US simultaneously by the next day. Financial work like for Wall Street, you can't move that to China at all. That kept my fat out of the fire while others were losing jobs left and right. Similar to the machinists, the pay scales have dropped, what I got paid $25+/hr. for, now around $12-$14 commonly now.
Currently Active Users Viewing This Thread: 1

(0 members and 1 guests)
Posting Rules

You may not post new threads

You may not post replies

You may not post attachments

You may not edit your posts

---

HTML code is Off

---