How-to: 00-04 G2-M3 focus powered mirrors
---
The G2-M3 00-04 focus powered mirror is a a controversial mirror for the focus. because if they do send a wiring diagram with it, the only thing it is good for, is telling you which is the ground wire and which is the blinker and/or park wire. So this write up should help anyone who buys them.
They come in a wide variety of options. But I picked the powered clear blinker one's. Just didn't feel right paying an extra 8 bucks to have the outside blinker lens shaded, when I can do it myself, and had to, because they are far to bright to be legal around here. Without it tinted a cop could see the blue light 30-50 feet down some streets, I mean before I tinted it, I looked about 30 feet down a side street, and seen it reflecting off a speed limit sign, so tinting them is necessary. It's very easy to do, sand with a 1000 grit, clean it off good, and then use VHT Nightshade to tint it.
Other then that, you should be ready to mount it, and start wiring it. Now you will notice when mounting it that the stock mirror bolt is way too big for these M3 mirrors, so you will have to find one that does. (A local hardware store will have a bolt.)
Now looking at the mirror wire's you will notice that you will have to cut the stock plug off and hard wire it, the wire colors for the powered mirrors seem to vary on every focus, so it will be a trial and error type of job. Even with using a volt meter, I had to re-do it atleast 3 times to get it right.
Now as far as hooking up the blinker wire and park wire, I sat there and taped into the wiring at the front side bumper blinkers, and on the 00 to 2002.5 model focus's the wire color will be the same as my 2000 se wagon. As far as 2003 models and up...IDK if the colors will be the same?
(
Note:
The G2-M3 mirror has three wire's beside the three covered powered mirrors wires. These wires are blue, white, and black, these are for hooking up the blinkers, and park light)
So on my 00 focus there is a orange wire and a blue wire with a red strip on the front left blinker. Orange is the parking light, and the other is the blinker wire.
And on the right side we got orange with a white strip as the parking wire, and blue with a white strip for the blinker wire.
Now your only going to want to attach the blinker wire here, because if you had the park wire hooked up too, then when you put your parking lights on or headlights, the blue mirrors will illuminate all the time. So instead of hooking your blue park wire from the mirror to the front bumper, find a consistent 12Vin the car ( from cig lighter or other source), and put a toggle switch in so you can control when those lights come on.
Now on the mirror itself you will notice that there are six blue led lights on the front of the mirror, and a arrow with 5 or 6 lights on the actual reflective part. The white blinker wire controls three of the six lights on the front of the mirror, and the 5-6 lights on the arrow that's on the reflective part.
The blue park wire however, control the other three led light on the front of the mirror that the white blinker wire does not light up. So if you hook a switch to the blue park wire instead of connecting it with the bumper blinker, then you control when people see those three lights, and when they don't, and the only time people see the lights otherwise, is when you use your blinker.
Onto pics:
This first one is from in-front of the car with the caution lights on. So that means three on the front of the mirror are blinking, and the arrow on the reflective side.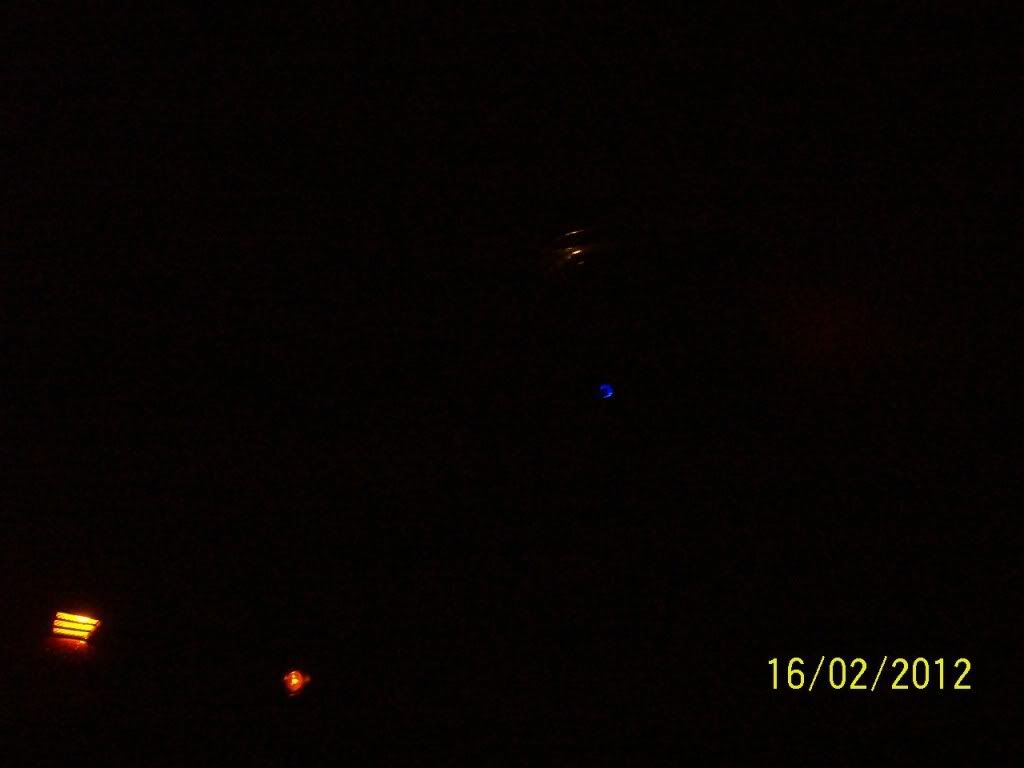 This next one is with the blinkers off, and the park lights turned on by my toggle switch inside the car. The other three that don't work on blinker are showing in this one. And this third one is just the blinkers on, from 25 feet away on the driver side. Kinda looks white when your that far away??? And just to share, this is where I put my toggle switch, right next to my other one for
extra
interior lighting.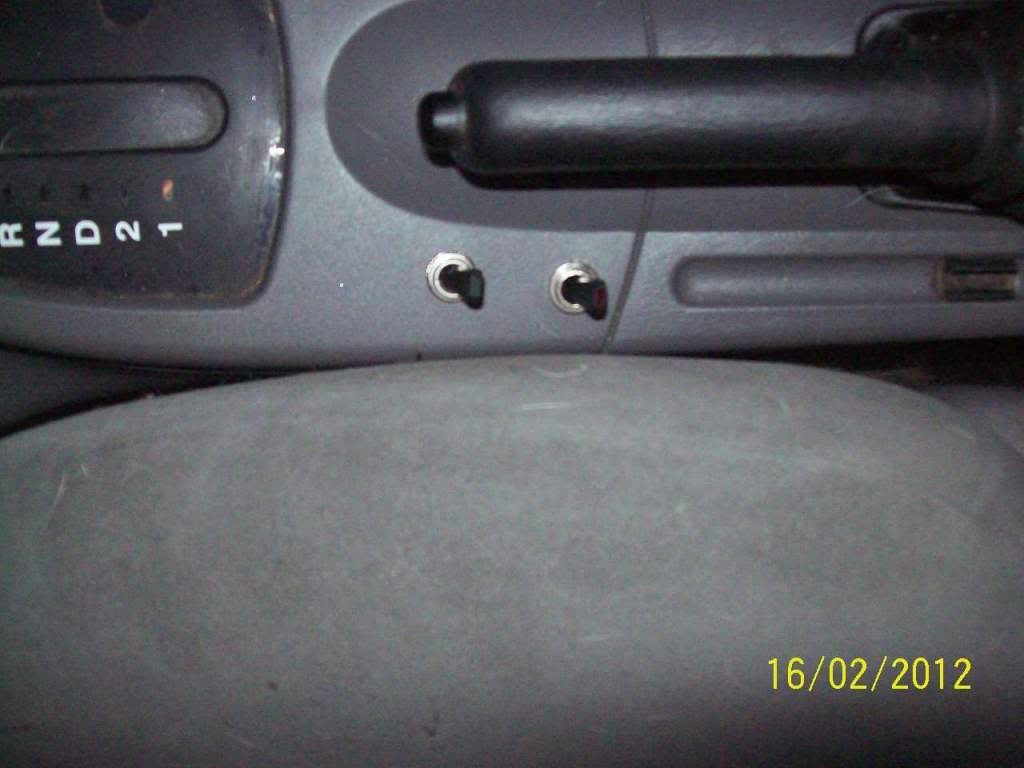 Sorry, interior is a little dirty, just coming out of winter here in CT.
P.S
If anyone wants to see the arrow side of the mirror, or what they look like during the day, Just let me know and I'll add some more pics. These pics above are more so to show you how they illuminate at night with nightshade heavily sprayed on.

I hope this helps some people to install these G2-M3 mirrors.
Remember
: FordForums.com, and it's members or staff are not responsible for if you get a ticket for these mirrors, or any other legal action taken against you. Therefore you assume total responsibility for performing this mod to ones own vehicle.
Putting these mirrors on your car in some states is taking a risk with the blue light being too noticeable, and/or distracting, most states or countries do not allow any other color beside white, amber, red, or orange to be on the interior or exterior of a vehicle while in motion and/or on public streets or highways.
Re: In progress write up.
---
Totally illegal to fit any blue light to front of car here in U.K . Would be cops / boy racers who do so are soon sorted out by police .

p.s
May be not the best idea to post a link if " they are far to bright to be legal around here. " ?
Subaru/Ford guy.
Join Date: Mar 2011
Posts: 1,282
Re: In progress write up.
---
Once you tint them they are not bad at all.

I've driven by plenty of cops so far, and nothing has happened, they barely see the front blue lights, and the arrow on the mirror is seen, but some SUV's come with red, amber, white, and sometimes blue arrows, so I think as long as you tint the front enough, and put the park wire on a toggle switch, then you will be fine.

I'll take some pics of mine tonight, I have to anyways.
Subaru/Ford guy.
Join Date: Mar 2011
Posts: 1,282
Re: How-to: 00-04 G2-M3 focus powered mirrors
---
Also note: I did a little bit of looking around on ebay and amazon, and found out that they do sell totally legal one's that come in white or amber, the only thing is, they do not have the arrow on the reflective part of the mirror.
Currently Active Users Viewing This Thread: 1

(0 members and 1 guests)
Posting Rules

You may not post new threads

You may not post replies

You may not post attachments

You may not edit your posts

---

HTML code is Off

---