How-to: Air ride to spring conversion.
---
Background:
My 98' police interceptor had a low ride height in the rear of the car compared to the front. The "body in trunk look" was especially noticeable when I would park my crown Victoria next to other crown Victoria around the same age. One solution to the problem was to install some lowering springs and steering knuckles in the front of the car to make the front ride height similar to that of the rear. But since I do drive over speed bumps and potholes and desire not to scrape the underside of the car in the process, I chose to raise the height of the rear to make it closer to that of the front.
Acquiring the springs:
When the parts department personnel at the ford dealership types in to their computer that somebody desires to order a set of springs for their crown victoria, a list appears of all the spring codes for that year. The list does not differentiate which spring codes were used in which vehicle. That's why the dealership will always ask for the spring code from the drivers door sticker and if you ask for "police springs", you'll get told that they need your spring code.
Below is a list of the rear spring codes used in recent police interceptors, the corresponding part number, price and some comments about the spring. Note that each part number in the list below is for one spring. So if you're replacing the pair of rear springs in your vehicle, you'll need to order two of which ever spring you choose.
Part Number
From
To
Description
Suggested Retail (April 2006)
F8AZ-5560-EA
1998
Early 1999
"EE" springs that came in 98' P71's. First year for this revision of the "EE" springs, also the first year of the new body style with the new redesigned watts linkage rear suspension. They ride low especially under load and may be useful as "lowering springs". Catchword "EPS".
"Obsolete"
F8AZ-5560-GA
Early 1999
Mid 2001
After many complaints from police departments about low ride height in the rear, ford changed to "GG" springs in mid-1999. Catchword "GNX"
Superceded by 3W7Z-5560-EA
F8AZ-5560-HA
Mid 2001
2002
The "HH" springs ride a little higher than the "GG" springs. Catchword "HAP"
Superceded by 3W7Z-5560-FA
3W7Z-5560-EA 2003
2005
GNX
Superceded by 6W7Z-5560-A
3W7Z-5560-FA 2003
2005
HAP
Superceded by 6W7Z-5560-B
6W7Z-5560-A
2006
These are the springs that are factory installed in 2006 and later crown victorias during production. They are also what you will recieve if you attempt to order rear spring service assemblies for a 1998-2005 police interceptor too.
$37.16
6W7Z-5560-B
2006
PBA
These are the springs that are factory installed in 2006 and later crown victorias during production. They are also what you will recieve if you attempt to order rear spring service assemblies for a 1998-2005 police interceptor too.
$38.79
F8AZ-5560-FA
1998
Mid
2001
Compressed Natural Gas (CNG) "FF" Springs. CNG fuel tanks are located in the rear of the car and weigh a couple hundred pounds, yet the car still has to ride the same height as gasoline cars do. Catchword "FTP".
$32.37
(Limited availability. Soon to be obsolete)
D9AZ-5560-AE
1993
1997
"EE" springs used in 1993 to 1997 police cruisers.
Also, if sagging is observed in the rear of 98+ CNG crown victorias, the solution is to remove the factory installed "FTP" or "HAP" springs and install a set of the these. See also:
TSB 02-18-6
. Catchword "TOW"
$82.45
D9AC-5560-ADA
1992
Engineering code for the rear springs used in the later "box bodies" and very early "aero-body" police cruisers up until the 1992 model year. Catchword "SPA"
"Obsolete"
F6AZ-5560-DA
1996
1997
Compressed Natural Gas (CNG) "DD" springs installed by ford in 1996 and 1997 vehicles. Catchword "DSJ".
"Obsolete"
D9AZ-5536-A
1979
2003
Spring insulator that sits between the top of the spring and the body of the car. If your car is older and the rubber is cracked or if you are converting from air springs to conventional steel coil springs, you will need two of these.
$8.57
F1VY-5664-A
1992
2003
Rear swaybar endlink
$11.02
Note: Base civilian rear springs have a rate of 130lbs/in. Police springs are 160lbs/in.
Note: 1992 and later crown victorias all share the same spring perch design, so late model springs physically fit into older vehicles without a problem. 98'+ springs also will have a smaller outer diameter to clear the watts rear suspension stuff, but this just means that 98+ will work in earlier vehicles, but earlier springs will not have optimal suspension clearance in the later 98+ vehicles. As another option, moog manufactures aftermarket springs for select model year crown victorias. But unlike their original equipment ford counterparts the moog cargo coils are a progressive rate springs and many people have complained that they ride too soft for their liking when unloaded.
Note: If you own an older crown victoria or lincoln town car and are tired of replacing faulty rear air suspension components, you can convert to a conventional steel coil spring rear suspension by removing the original air springs, installing steel coil springs with appropriate frame insulators in their place, and finally disconnecting the electrical connector from the underhood compressor. The rear axle and frame spring perch design are the same between vehicles with and without the factory air suspension system. There have been a few different service bulletins issued by aftermarkets parts suppliers on this topic:
Note: Do not disconnect the electrical connector from the air suspension control module behind the glovebox in your crownvic. This module also controls the evo variable assist power steering system. And disabling this module would make the evo valve on the power steering pump constantly run at full assist which would make the vehicle wander at highway speeds.
Note: If you own a 1999 police interceptor that is driven at high speeds, check to ensure that it has the "GG" or "HH" springs in the rear. Some early 99's with the 3.55 rear axle ratio had the saggy "EE" rear springs which increases the risk of transmission tailshaft housing and differential pinion bearing failure. See also:
TSB 99-18-1
Determining what is currently in your vehicle:
The easiest way to determine what springs are currently in your vehicle is to open the drivers door and look at the vehicle certification label. In the section on suspension springs labelled "SPR", there will be four letters. The first two letters are for the right and left front springs, the last two for the right and left rear springs. So spring code NNEE means that the vehicle in question has "N" code springs in the front, and "E" code springs in the rear.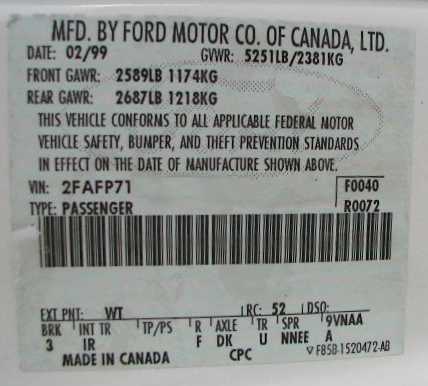 Additionally, there are catchword stickers placed on the springs during manufacture. For example if you see a sticker attached to the rear spring that reads "EPS", you've got "E" code springs.
Installation Notes:
Warning: Spring replacement will alter ride height, make sure to check headlight alignment before driving at night.
Rear Coil Springs:
To change the rear springs, the car must be raised and supported under the rear frame rails so that the rear suspension is under no load. Jackstands work well for this task. But "ramps" will not be acceptable for this project as the weight of the car will still be compressing the springs making them impossible to safely remove.
Some people claim that the rear springs can be installed without the use of a spring compressor, but this was definetly not the case with the "HH" springs that I installed in my 1998 crownvic police interceptor. Even after the shock absorbers and swaybar endlinks were removed from the axle, the "HH" springs were still physically too long to fit in the space between the rear axle spring perches and the body of the car without compressing them a little bit.
If you do choose to disconnect the shocks and sway bar endlinks, make sure to have a suitable floorjack under the rear end so that the rear end will not drop suddenly and that you'll be able to gradually raise and lower the rear end to line up the studs with the mounting holes in the shock absorbers during reassembly.
Getting the springs into the position was the easy part, but the spring insulators were stubborn and repeatedly fell off the top of the coil springs while attempting to get the springs into position. With some persistence, I was able to get the coil springs and their respective insulators into position but perhaps some tape to hold the insulators in place would have made the job a little easier.
Was pleasently suprised that the swaybar endlink nuts were not seized in place and turned easily with a wrench. Often, one ends up cutting them off with a grinding wheel or saw because the nuts will not turn due to corrosion.
Also, be careful not to scrape paint off the springs when installing them because it acts as a protective coating to inhibit corrosion.
Front Coil Springs:
Front coil spring installation is similar in regards to the rear installation in that the vehicle needs to be raised and supported under the front frame rails. Unlike the rear coil springs, you'll need to bring your vehicle to the shop for a "front end alignment" after replacing the front springs to prevent premature tire wear.
The lower balljoint needs to be seperated from the steering knuckle, so you'll need a special puller for the job. Some have used "pickle forks" to seperate the knuckle from the control arm. But using a pickle fork almost always tears the boot and unless you're installing new balljoints while installing the springs, you'd be best off using the special tierod or pitman arm puller for the job.
The front coil springs unlike the rear are still under considerable pressure even when the front suspension is at full droop. Make sure to have a spring compressor installed on the front springs and a heavy duty floorjack with a wide base under the lower control arm prior to serperating the knuckle from the balljoint to reduce chances of personal injury.
A couple backyard mechanics have commented that front spring replacement is not something they'd want to do again on their crown vics, would rather pay a repair shop to do the work instead. Again, be very careful if you attempt to replace the front springs in your vehicle. The spring located in between the frame rail and the lower control arm has enough force behind it to easily break human bones and possibly amputate a human arm or leg.
Below is a list of the front coil springs used in crownvic p71 police models. Note that 2003 crown vics have a redesigned front suspension and 2003 front springs are not compatible with 2002 and prior vehicles.
Part Number
From
To
Description
Suggested Retail
D9AC-5310-AMA
1992
Engineering code for the front springs used in the later "box bodies" and very early "aero-body" police cruisers up until the 1992 model year. Catchword "MIM"
"Obsolete"
D9AZ-5310-AN
1993
2002
Factory installed front coil spring on 1993-2002 police cruisers. Will physically fit in 1979-1992 crown vics too. Catchword "NUL"
Superceded by D9AZ-5310-W
D9AZ-5310-W
$166.40
3W7Z-5310-AA
2003
2005
Factory installed front coil spring in 2003-2005 police cruisers. Will NOT physically fit/work in a 1979-2002 crown vic.
$74.60
C9AZ-5415-B
1979
2002
Front Spring Insulator
$19.82
5W1Z-5415-AA
2003
2003
Front Spring Insulator (Supercedes 3W1Z-5415-AA)
$46.80
F4AZ-5K484-A
1992
1994
Front Swaybar Endlink
$66.30
F6AZ-5K484-AA
1995
1997
Front Swaybar Endlink
$56.92
F8AZ-5K484-AA
1998
2002
Front Swaybar Endlink
$54.23
3W1Z-5K484-AA
2003
2003
Front Swaybar Endlink
$36.10
Note: Base civilian front springs have a rate of 440 lbs/in. Police springs front springs are 700lbs/in. Some older panther platform vehicles also used 410 lbs/in springs. See also:
TSB 93-1-1
and
TSB 97-18-2
and
TSB 91-22-2
Note: Besides having a higher spring rate, police springs also ride higher than their civilian counterparts to help prevent damage to undercarriage components such as engine & transmission oil pans, bumper covers, floor pans, etc.
Note: All 1993-2002 ford crown victoria police cruisers share the same front coil springs. But, if you are considering installing used "preowned" coil springs, it is in your best intrest to locate the most recent model year wrecked donor vehicle with the lowest mileage that you can find. After several years of supporting the weight of the vehicle, coil springs tend to collapse significantly and loose part of their height. This is why many older vehicles appear to have been "lowered". But when asked, the owner insists that the suspension has not been altered. Sometimes the springs in a car will each sag at a different rate too. If your car leans towards one corner when parked on a flat surface and has not been involved in a collision, suspect that a coil spring has collapsed or otherwise failed. Additionally, if you live in an area where chloride salts are used to clear the roads of snow and ice in the winter, watch out for any springs that have visible corrosion present or a damaged protective paint coating because suspension spring fatigue cracks can have lethal consequences.
Note: 2003 and later crown victorias have springs with different rates in the front than the 1979-2002 crown vics do. So, any numerical spring rate information you may see above about front springs is not applicable to 2003+ crownvics.
Note: Some crown vic owners have inquired about hpp (handling and performance package) springs as they have better handling characteristics than their base civilian counterparts, but give a significantly softer ride than their police counterparts. The problem is that all crown victorias with hpp use air springs in the rear. So, if you have a crown vic with steel coils on all 4 corners, you will not be able to use hpp rear springs unless you also add the air suspension compressor, control circuitry, and other support components to your car. Curiously, most of the later hpp crown victorias until the 2003 model year have different springs installed on each side in the front. The different hpp spring choices are F4AZ-5310-E (Catchword: ETR), F4AZ-5310-F (Catchword: FPK) and F4AZ-5310-G (Catchword: DHL). All hpp front springs have a rate of 540lbs/in, the difference between them is the height. The 98+ crownvic hpp rear air springs springs (catchword "AIR") are interchangeable side to side and hpp crown vics will have "ZZ" printed on the drivers door veci sticker. The base civilian crown vics with air suspension use a softer air spring with a spring code of "XX" and a catchword of "HDS". All the air springs that
http://www.arnottindustries.com
sells use the hpp spring rate. Additionally, keep in mind that air springs unlike their steel counterparts do not have a static spring rate. When the vehicle is under load, more air is pumped into the spring and the rate increases (gets firmer). When the vehicle is unloaded, the rate decreases (gets softer) when air is vented from the spring.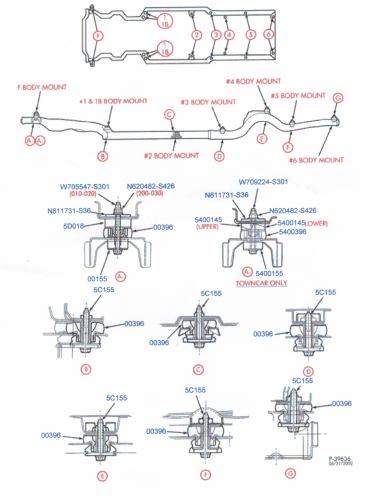 Not really part of selecting suspension springs. But, body mounts are wear items and do collapse from various causes including: abuse (i.e. an overloaded police cruiser), high mileage, and old age.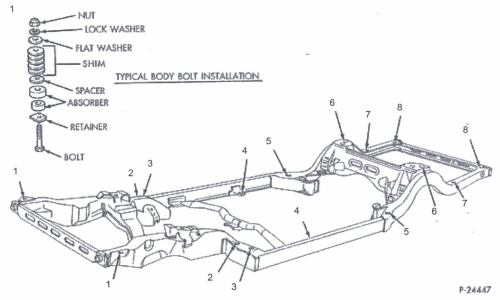 Questions or Comments?
Email Me:
2vmodular@crownic.net
Currently Active Users Viewing This Thread: 1

(0 members and 1 guests)
Posting Rules

You may not post new threads

You may not post replies

You may not post attachments

You may not edit your posts

---

HTML code is Off

---