How-to: Alternator voltage test.
---
Reply to: 2001 Mustang Alternator Issues...
You need to check the wiring. Start simply. When it doesn't charge next time wiggle or move the 3 way connector and its wiring. If it starts charging intermittently as you do this, there is an issue with the connector terminals being spread open, or the wires be partially broken right near the connector or where the wires enter the connector. new connector from Ford is the fix.
If wiggling doesn't change anything get a voltmeter. With the negative lead clipped to the negative terminal, disconnect the three way connector and probe the terminal of the Yellow/White wire with the positive lead. There should be battery voltage here at all times. Next, probe the terminal of the Light Green/Red wire. There should be battery voltage or close to it. Probe the heavy battery lead (Black/Orange) at the alternator. Should be battery voltage. Last test is voltage drop from positive cable clamp to the heavy battery lead on the alternator. Clip the positive lead of the meter to the positive cable clamp. probe the heavy lead on the alternator with the negative test lead. There should be 0.5V or less. This should be a start for you, diagram is below.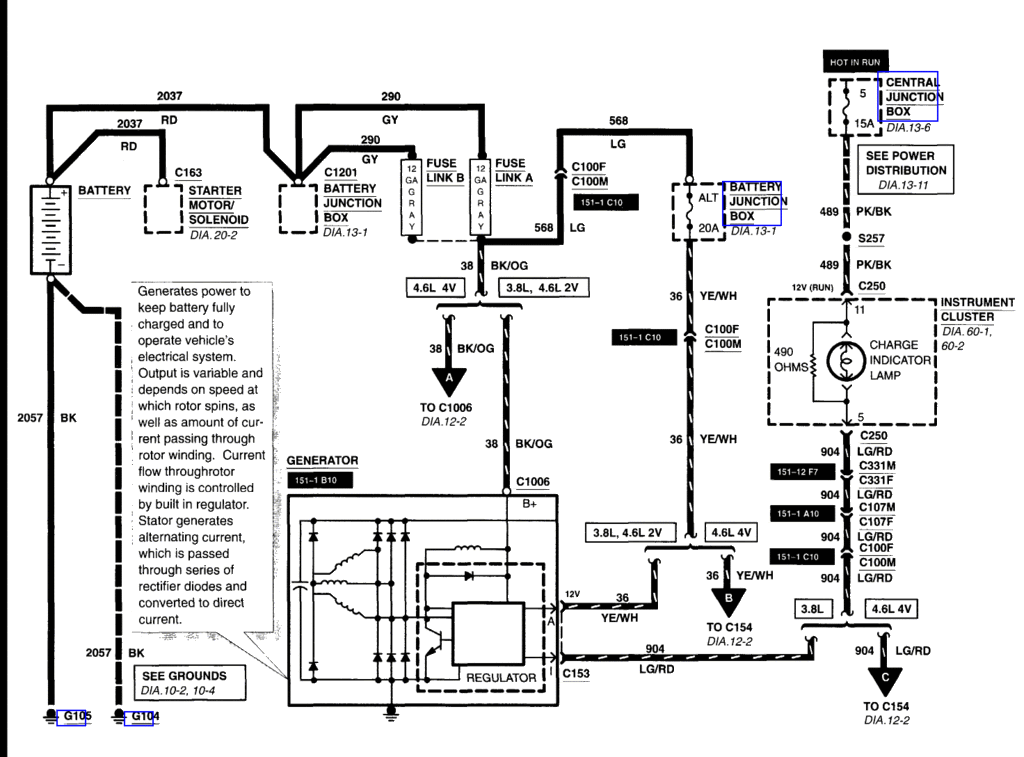 ---
Master ASE Certified L1 Chrysler Technician- still a Ford fan at heart.
1964 Thunderbird Hardtop- Chantily Beige- 390 FE 4V V8-Uncle's Car
1966 Thunderbird Convertible- Red- 390 FE 4V V8- Uncle's other car- waiting for paint and body work!!!
Currently Active Users Viewing This Thread: 1

(0 members and 1 guests)
Posting Rules

You may not post new threads

You may not post replies

You may not post attachments

You may not edit your posts

---

HTML code is Off

---