How-to: A/C delete, Zetec DOHC.
---
Very easy, with some minor gains to be happy about.
As far as MPG, you will only see about 2-3 MPG better.
As for performance wise, it's better, it runs with less resistance, and you drop 30 pound with the compressor out, condensor, accumulator, and lines.
The only bad thing about losing your A/C besides the summer heat, is that in the winter when you put the defrost on, the A/C takes the moisture out of the air, so your window can defrost faster, well without the A/C it will take a little bit longer to defrost the window, then with the A/C.
But other then that, it's easy, the Dayco belt part number is 5060775, and the belt is usually carried at any advance auto parts, or autozone seeing as it is also used on 5 other makes and model, two being Ford.
Here is the belt diagram for without A/C.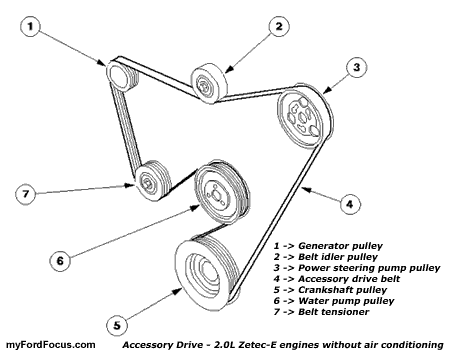 FAQ'S:
Question:
Will any codes pop up and make it so I can not pass emissions?
Answer:
no, removing the A/C will not throw any codes, when you un-plug the A/C's only wires, you can either just tuck them up out the way, or remove them from the car, by fallowing them to the fuse box, and pulling it all out.
Question:
The belt that you get is kinda hard to get on the P/S pump when the tensionair is fully pressed up, will it wear out my tensionair?
Answer:
No, when putting it on it is hard to get over the P/S pump, but you will notice that when you do get it on there and let it go, it will give some distance between it and the stop point.
Note:
Any other questions please ask and I will add.
Currently Active Users Viewing This Thread: 1

(0 members and 1 guests)
Posting Rules

You may not post new threads

You may not post replies

You may not post attachments

You may not edit your posts

---

HTML code is Off

---