How-to: license plate lights.
---
On the Ford focus whether it be sedan, hatch, or wagon, you will run into this problem sooner or later, if your over 60k on your focus, expect it to not be too hard or rusty, but any more miles then 80K, and you will most likely want to something like this;
First when looking at the hatch/trunk, you will notice that there are anywhere from three to four nuts on the inside of the hatch/trunk lid, now on a 60k mile focus you might be able to un-do the nuts without breaking them, but 80k and higher, you will find it easier to just pop them out with a flat head screw driver, they have clips that look like this.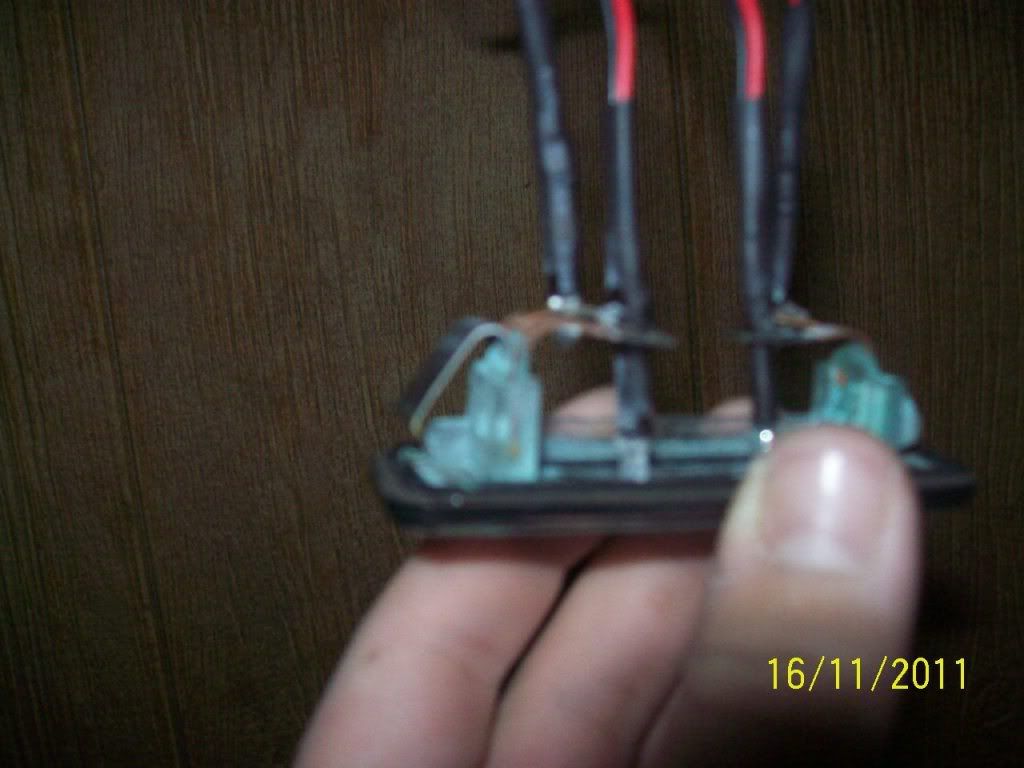 You can kinda see the shinny metal clip there.
But if you get it out without breaking it, then good, but most break if there old, I mean they completely fall apart once removed, so a trip to the local junk-yard might be necessary.
But once you got the lenses out, it would be a good idea to replace them with 3mm or 5mm
white
led's.
How I did it was using four 3mm white led's, I drilled the two brackets that hang out into the middle, with a 1/8 size drill bit, then you simple use some crazy clue, and maybe some JB weld to hold it there tightly, and correctly pointed at the license plate, then just wire them up to the two wire's coming out for each light.
The orange/black one is the power, and the all black one is the ground.
This mod/maintenance write up will last a life time, and use far less power, which really doesn't matter, but it's nice to know your using less power back there.
Here is a pic of mine with the four white pre-wrapped led's from Oznium.com
Might be a little blurry, but I hope this helps some members to fix there tail gate problem.
Djzx3
Subaru/Ford guy.
Join Date: Mar 2011
Posts: 1,282
Re: How-to: license plate lights.
---
And you end up with this.
Not too bright to touch the ground, but just bright enough to be legal.
Currently Active Users Viewing This Thread: 1

(0 members and 1 guests)
Posting Rules

You may not post new threads

You may not post replies

You may not post attachments

You may not edit your posts

---

HTML code is Off

---