Ford Probe GT : 1993 Car of the Year.
---
Motor Trend
Photo's by Consumer Guide Automotive
Photo's by Global Auto Index
1993 Ford Probe GT
1993 Ford Probe GT
Ford turned to partner Mazda to produce some of the magic installed in the Probe GT, but the result is tried-and-true American beef, built in a factory in Flat Rock, Michigan, just south of Motown. Radically modern cab-forward design turns in a shapely exterior, but rear-seat passengers are necessarily penalized in head room. A driver's airbag is standard. The interior is comfortable and striking in execution, and secure even in hot cornering. Some of the "lightness" inbred in the 2900-pound design is a minus; slamming a door with the window rolled down is not a peak experience. This is a thoroughly road car, with tight, predictable handling on tap in all speed ranges; the darn thing corners like it was only two inches off the ground, yet ride quality is impressive. Whether on the road course, driving through the mountains, or cooking through the slalom, the Probe GT sticks like burnt eggs to a frying pan. Its combination of marvelous road manners and a smooth, torque-drenched powerplant makes it a joy to drive under any circumstance, even in traffic around town. The 2.5-liter V-6 engine is a masterpiece. Churning out 164 horsepower, it provides quick, immediate response and a wide powerband. At the high end of the gear pattern, it gets a touch lethargic on steep climbs, but immediate relief is only a downshift away. Steering communicates with the driver as if connected to the central nervous system. Dive deep into a corner, jam the ABS-equipped four-wheel disc brakes to the floor and crank in the steering input. The Ford rises to the occasion cheerfully. The Probe GT delivers the most overall driving enjoyment you can get in this class for the money.
Motor Trend's 1993 Car of the Year
Ford's new Probe GT is a landmark car. For starters, its the first car from the company's joint venture with Mazda to attain full domestic status, according to the EPA. Thus its inclusion into the '93 Car of the Year field, where no Probe has gone before. It also happens to bring new grace and refinement to its particular slice of the domestic landscape, vaporizing the existing competition with its fine road manners and clean styling. More important, the Probe compares just as solidly with its imported competition; this car stands on its own merits in either context, which isn't something that can always be said of domestic offerings. The Ford Probe GT at last gives the Buy American crowd a chance to enjoy a world-class sport coupe in good conscience, and it gives import shoppers a strong alternative to import and transplanted offerings. One other distinction: The Ford Probe GT is Motor Trend's '93 Car of the Year.
The GT achieved this remarkable goal with consistently excellent performance in every regimen. At its heart, there's a wonderfully smooth 2.5-liter V-6 with sophisticated multi-valve technology that delivers strong and progressive bottom-end power to complement the solid rush on top. The turbocharged four- cylinder engine in the old Probe pales in comparison. Delivered to the front wheels via a five-speed manual transmission (or optional automatic), the Probe puts down its 164 horsepower effectively. Aggressive chassis tuning, along with wide tires, ensures a keen, sporting feel from behind the wheel. Good visibility and nimble, accurate steering response make the car supremely confidence-inspiring on snaking mountain roads.
The price for such capability is a small one- the highway ride is taut but agreeable, and the tires inform you of changes in road surface in a conversational tone. All perfectly in keeping with the Grand Touring role Ford engineers envisioned for the new Probe. Long-range comfort for front passengers is a strong suit, with supportive seats and room to spread out. Compact people fit nicely in the rear compartment, and full-size adults can handle short stints in class-average comfort.
The new Ford Probe GT didn't win Car of the Year without a fight. The American car industry is in a renaissance of historic proportions, and the best of that new thinking is embodied in this year's field of contenders. This wasn't an easy choice for our seven judges, but the result is a clear one: The '93 Ford Probe GT is at the leading edge of a revitalized domestic car industry.
Base Price: $15,174
Price as tested: $19,056
2-Door,4-passenger
Front engine, front wheel drive
2507cc DOHC V-6
164
[email protected]
RPM
156
[email protected]
RPM
5-speed/manual
Wheelbase:102.9 inches
Curb weight: 2900 pounds
0-60 mph : 7.5 sec.
1/4 mile: 15.8 sec./88.0 mph
Braking 60-0 MPH: 117 feet
Skidpad ( Lateral G ): 0.85
Slalom (MPH): 64.3
Fuel Ecomomy City/Hwy: 21/26
1995 PGT Interior
---
Stacy94PGT
My first car was a 67 Mustang Coupe, 2nd one was a 67 Cougar XR-7, 3rd one was a 66 Mustang Coupe. Why did I get rid of these cars for ? I know why, because I'm stupid, stupid, stupid.
My next Ford.....
1995 Ford Probe Review
---
From New Car Test Drive
Photo's by Consumer Guide Automotive
Photo's by Global Auto Index
1995 Ford Probe
A good design lives on
Although it's a carryover design in a market segment full of new faces, the Ford Probe has been, and will likely continue to be, the leader of the small sport- coupe pack. Given the competition - Acura Integra, Honda Prelude, Mitsubishi Eclipse, Toyota Celica, Nissan 240SX and Mazda MX-6 - being top dog is an indication that Ford did something right when it introduced the Probe for the 1989 model year.
In fact, Ford did a number of things right. One was to produce this sleek front-drive coupe in partnership with Mazda, a ready source for some pretty sophisticated and already-available hardware. Giving company designers the freedom to produce a stunning body shape was another smart move, as was keeping the Probe's price low and affordable.
The Ford/Mazda collaboration resulted in one major plus for both the Probe and the MX-6: Unlike other players in this category, both offer V6 powerhouses, a decided advantage in terms of smoothness. Among its 4-cylinder competitors, only the Integra and Prelude come close to matching the Probe's silky delivery.
But spending a few miles behind the Probe's steering wheel will tell you that Ford's smartest move was to pay close attention to the details that separate passenger carriers from sportsters. Simply put, the Probe is lots of fun to drive.
Models include base and GT versions. Our test GT, stocked with anti-lock brakes (ABS), power everything, leather seats and an AM/FM/CD sound system, came to $21,265.
Walkaround
The Probe may share a lot of components - powertrains, understructure and major suspension pieces among them - with the MX-6, but the overall packages couldn't be more different. The Probe has a slim, sleek, aggressive exterior that looks fresh and exciting even after a few years on the road. Only the now-passe pop-up headlights betray the Probe's age; otherwise, the rounded nose, smooth sculptured sides and unique glass-rich roofline combine to make this coupe a styling standout.
The upper-level GT differs from its base sibling in several respects. First and foremost is the engine: The base model features a 118-hp 2.0-liter DOHC 4-cylinder from Mazda; the GT has a 2.5-liter DOHC V6, also built by Mazda, that generates 164 hp. Also, while each model has its own nose cap and taillight treatment, the GT sports larger 16-in. alloy wheels. A rear wing is standard on the GT version as well, though this can be deleted (knocking $235 off the price) when ordering.
There are practical aspects to the probe's looks, which is consistent with the Ford design philosophy. Low aerodynamic drag means reduced wind noise, and the large rear hatch permits maximum access to the large luggage bin, albeit with a high lift-over to surmount. Other details are perhaps less successful: The outside mirrors are smaller than we'd like, and the semi-concealed door handles, although good-looking, aren't the easiest to operate. These, however, are minor problems made insignificant by the Probe's handsome appearance.
The Inside Story
The driver and the front-seat passenger are well served by the Probe's interior accommodations. Wide doors make access easy, and a pair of nicely contoured bucket seats await. As you'd expect in a sport coupe, the driver gets the lion's share of the attention, having a nice thick-rim wheel (complete with airbag and cruise- control buttons), well-sited pedals and shift lever, and a sweeping control pod to play with and admire.
Full instrumentation - tachometer, speedometer, odometer, voltmeter, and fuel level, water temperature and oil pressure gauges - is provided, as are simple knobs for the climate-control system. The radio, as is often the case with Ford, has an array of small push buttons that are hard to get used to and difficult to find when the car is moving.
Like the exterior, the Probe's cabin is dominated by smooth, sweeping elliptical forms, from the dashboard to the levers, switches and hand grips on the doors. The only styling miscue is the large bulge on the right side of the dash, but that can be forgiven as it makes room for a passenger's airbag without displacing the glove box.
Forget the rear seats. Instead, fold down the back and get an additional 9.0 cu. ft. of stowage space. Or just use the rear cushions to hold smaller parcels.
Leather seats - with unusual longitudinal pleating - are an option. And a few features are offered to make the Probe more comfortable. Base-model seats can be upgraded, and air conditioning (optional on both base and GT) and a couple of radio enhancements are available. GT buyers can also opt for a sunroof.
Ride & Drive
If a combination of good looks and practical transportation fits your driving needs, the base Probe is a fine choice. Its 2.0-liter 4-cylinder engine does an adequate job of pulling the 2700 lb. car along, delivering good fuel economy and a reasonably smooth, quiet ride. It can be teamed effectively with either a 5-speed manual or 4-speed automatic transmission.
Moreover, the base Probe blends a smooth city ride with good highway manners. From inside, you won't be bothered by much wind or tire noise, and the engine settles down to a muted hum at cruising speeds.
We have to say, though, that our Probe GT test car was much more fun to drive. The 2.5-liter V6 offers sparkling performance with minimal loss in fuel economy (the EPA figures for the V6 are 21 mpg city/26 mpg hwy., but the real-world difference between Probe engines is less) and a big gain in flexibility. The manual transmission is our first choice for the GT; the automatic, though perfectly acceptable, dampens the car's sporty nature.
A couple of minor points detract from the GT's fun rating. First, you have to accept the engine's preference for high-rpm operation. At low revs, it feels sluggish (one good reason to avoid the automatic transmission) and doesn't come alive much below 3000 rpm. And the clutch in our test car was annoyingly numb, making slip-free shifts difficult.
These, however, are minor issues. What earns the GT a glowing report is its behavior on the road. The base model is nimble enough, but the GT is agile, darting around in a way that will bring a smile to any driver's face. Steering is light and positive, body roll is kept well in check and most front-wheel drive traits - such as a torque-induced tug at the steering wheel during hard acceleration, and a tendency for the front wheels to plow in high-speed turns - have been muted.
The downside is a stiff ride. The GT can't be called harsh, but it's not as smooth over rough surfaces as the base model.
In normal-to-heavy use, the GT's 4-wheel disc brakes are excellent. ABS is standard on the GT, optional on the base model. Extremely hard usage - at near-racetrack speeds - will induce some fade, but by then you may already be seeing red lights flashing in your rear-view mirror.
Final Word
By and large, the Ford Probe is a most sensible sport coupe. It provides the style expected of the genre, is well built and doesn't extract the expected penalties in comfort (at least for front-seat riders).
We'd advise careful consideration before choosing the base model, however. The initial savings (about $2500 over the GT's base price) and fuel economy pale when you factor in the bigger Engine's delightful responsiveness, the cost of adding the optional ABS that is standard on the GT and the lack of amenities such as a sunroof and leather seats.
But we can see no reason not to buy the Probe GT. And any number of good reasons why you should.
---
Stacy94PGT
My first car was a 67 Mustang Coupe, 2nd one was a 67 Cougar XR-7, 3rd one was a 66 Mustang Coupe. Why did I get rid of these cars for ? I know why, because I'm stupid, stupid, stupid.
My next Ford.....
1996 Ford Probe GT
---
NEW CAR REVIEW
By: John Heilig
The Auto Channel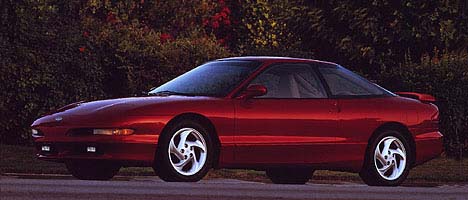 --------------------------------------------------------------------------------
SPECIFICATIONS
MODEL: Ford Probe GT
ENGINE: 2.5-liter 24-valve V-6
HORSEPOWER/TORQUE:
[email protected]
,600 rpm/
[email protected]
,800 rpm
TRANSMISSION: Five-speed manual
FUEL ECONOMY: 21 mpg city, 27 mpg highway, 22.3 mpg test
WHEELBASE: 102.8 in.
OVERALL LENGTH: 179.5 in.
OVERALL HEIGHT: 51.6 in.
OVERALL WIDTH: 69.8 in.
CURB WEIGHT: 2,921 lbs(17.8 lbs/hp)
FUEL CAPACITY: 15.5 gal.
LUGGAGE CAPACITY: 18.8 cu. ft. (rear seat up)
TIRES: P225/50R16
INSTRUMENTS: Speedometer, tachometer, fuel level, water temperature, oil pressure, battery voltage, digital clock.
EQUIPMENT: Power windows, power door locks, power mirrors, cruise control, air conditioner, sunroof, AM-FM stereo radio with cassette, anti-lock braking, dual air bags.
STICKER PRICE: $19,000 (est.)
The Ford Probe has received a pretty bad rap over the years. One of the reasons for this, of course, is because the Probe isn't a Mustang. But when the Probe was originally conceived, it was to be a Mustang replacement. And it was a lot better car at that time than the Mustang was. Since then, of course, the Mustang has undergone a rebirth that has brought it back, somewhat, to what it was originally.
The other problem with the Probe is that it is front-wheel-drive. Performance cars are supposed to be rear-wheel-drive. Just ask any "expert. " -That's not the case necessarily.
Probe, however, has withstood all the criticism. I thought it was a decent car when it came out in 1989 and the present version is a little better. So what's to complain about. My only reservations about the new Probe are with the styling. I felt that the original design had an "American" feel; the present car appears to be more "Japanese." Now you probably know the Probe is the result of a joint venture between Mazda and Ford, so these feelings of mixed identity make sense.
Styling of the Probe is very dramatic. Anyone who likes the Diamond-Star duo of Eagle Talon and Mitsubishi Eclipse would also like the Probe. The slick fastback styling in a two-door coupe is about as sleek as you can get in a car and still offer practicality.
Let's get to the practicality, just for kicks. The Probe has a hatch rear that has a decent trunk under normal circumstances. But if you fold down the rear seat and remove the parcel shelf in the back, the Probe becomes a mini station wagon. There is enough room in the back there for all my daughter's clothes at one time (I would have guessed they wouldn't have fit in a van.). She also uses her Mark I Probe to carry animals for the humane society, including two big dogs in cages, sometimes a couple of cat carriers and and litter boxes. So while the Probe is justly marketed as a sports coupe, it can also serve as a hauler, although that's definitely not what it was designed for.
Performance of the GT is excellent with the 2.5-liter 24-valve V-6. The engine drives the front wheels through a five-speed manual transmission. Acceleration is good enough to chirp the tires in first gear, not a mean feat for a front-wheel-drive car. While the top speed is good, and road speed is good, the speedometer is marked to 140 mph and we never came close to half that number. But top speed is not the main criteria in a car like the Probe. What you want is good acceleration, good braking, and good handling. The Probe GT offers all of these.
On the highway it will keep up with anyone else. On the winding back roads it will also hold its own with any other car except for the serious GTs that cost two and three times as much. This is the kind of "sporty" car that's fun.
When it's set up in its normal position, the rear seat is adequate for two passengers in a pinch. There is a little more headroom than you'd expect. But if you're putting two adults back there, it'll be a tight fit. As with most sporty cars, the rear seat is best saved for young children.
While I liked the Probe's styling, I have always had a dislike for pop-up headlights. They are a necessity for good air penetration, but when they're raised they spoil the lines of a car so much I'm almost tempted to drive in the dark.
While the Probe has had a tough life it has endured because it's a good sports coupe with nice styling. The GT is a good performing car and is a lot of fun. It's the kind of car you have to drive to appreciate. But it would be nice to have a real cupholder somewhere in the car. It would also be nice to have a real glove box, which was eliminated for the passenger air bag.
---
Stacy94PGT
My first car was a 67 Mustang Coupe, 2nd one was a 67 Cougar XR-7, 3rd one was a 66 Mustang Coupe. Why did I get rid of these cars for ? I know why, because I'm stupid, stupid, stupid.
My next Ford.....
1996 MAZDA MX-6 LS
by Tom Hagin
The Auto Channel
The Mazda MX-6 LS may be built alongside, and shares many components with Ford's Probe GT at the AutoAlliance factory in Flat Rock, Michigan, but it takes a much different approach to the sports coupe segment of the automobile market. Where the Probe attacks the road with a firm ride and massive tires, the MX-6 pampers its occupants from the harsh realities of everyday driving with knock-out looks, sparkling performance and an extra measure of luxury. It comes two ways - the standard four-cylinder powered MX-6 and our featured car for this week, the V6 MX-6 LS.
OUTSIDE - The MX-6 shape combines a series of soft, well- proportioned lines that look great from any angle, with features taken from other sporty Mazda vehicles such as the Miata and RX-7. Its proportions are classic and the appearance timeless - a look that is still fresh, in spite of the fact that it was introduced four years ago. The hood is sloped radically, with flush, wrap-around headlamps, and its roof gently drops to an almost hatchback-like tail. Its profile is long, low and pointed, and with a low 0.31 coefficient of drag, it is able to slice the wind efficiently, with very little wind noise. Almost everything on the outside is body-color, including the bumpers and outside mirrors, while our test LS model wore styled 15-inch alloy wheels and all-season performance tires.
INSIDE - Mazda sound engineers deserve extra credit for keeping things quiet inside the MX-6. Deeply bolstered front bucket seats cradle those up front comfortably and securely, especially when the road twists, and the LS model's leather-wrapped steering wheel and shift knob are thick and pleasant to grip. Our test LS came standard with air conditioning and a power sunroof, as well as an optional leather seating package, which also adds a power driver's seat. Standard items on all MX-6 models include a tilt steering column, a lockable 60/40 split rear seat, rear window defogger, power windows, door locks and outside mirrors, along with an AM/FM cassette stereo. All of its controls are logically placed and within easy reach, and peering through the wheel to spot the gauges comes as second nature. Full instrumentation is standard, including a tachometer, but we'd like to see an oil pressure indicator, instead of a warning light.
ON THE ROAD - Standard-issue MX-6 models use a 118-horsepower inline four-cylinder engine, but the engine of choice for many MX-6 buyers is the silky-smooth 2.5 liter V6. This 24-valve, twin-cam engine puts out 164 horsepower and 160 lb-ft of torque, which isn't overly powerful, but its smooth delivery keeps power constant, regardless of engine rpms. The engine is smooth and quiet, with plenty of entertaining personality, and adds a sweet exhaust note, just to remind drivers of what's under the hood. It's available with either an optional four-speed automatic transmission with overdrive, or a standard smooth-shifting five-speed manual. We suggest the stick-shift version, however, as the automatic saps a noticeable amount of power.
BEHIND THE WHEEL - While the MX-6 LS' powertrain is impressive, its fully independent suspension deserves considerable praise. Adhering to its main mission of providing just the right blend of responsive handling and calm road manners, MX-6 uses front MacPherson struts with coil springs, gas-filled shocks and a thick anti-roll bar. The rear setup features Mazda's "twin trapezoidal" link-type suspension, again with gas shocks and a well-engineered anti-roll bar, to keep the car flat in corners. Its handling is very predictable and stable, especially combined with its variable-assisted, power rack-and-pinion steering. The chassis snaps to attention with a flick of the wheel, but remains composed under duress. LS models feature four-wheel disc brakes as standard equipment, while four-cylinder MX-6 models can have them fitted as an option. An anti-lock braking system (ABS) is optional on both versions, and we feel this is a wise investment.
SPECIFICATIONS
Manufacturer's Suggested Retail Price $ 23,695
Price As Tested $ 25,195
Engine Type 2.5 liter V6 w/MPI*
Engine Size 152 cid/2497 cc
Horsepower 164 @ 5600 RPM
Torque (lb-ft) 160 @ 4800 RPM
Wheelbase/Width/Length 102.8"/68.9"/181.5
Transmission Five-speed manual
Curb Weight 2800 pounds
Fuel Capacity 15.5 gallons
Tires (F/R) P205/55R15
Brakes (F/R) Disc-ABS/disc-ABS
Drive Train Front-engine/front-wheel-drive
Vehicle Type Four-passenger/four-door
Domestic Content 60 percent
Coefficient of Drag (Cd.) 0.31
PERFORMANCE
EPA Economy, miles per gallon
city/highway/average 21/26/24
0-60 MPH 7.9 seconds
1/4 mile (E.T.) 16.1 seconds @ 87 mph
Top Speed (Est.) 135 mph
* Multiport fuel injection
SAFETY - Dual airbags are standard, ABS is optional.
OPTIONS - ABS adds $800, while its leather seating is $1,095.
---
Stacy94PGT
My first car was a 67 Mustang Coupe, 2nd one was a 67 Cougar XR-7, 3rd one was a 66 Mustang Coupe. Why did I get rid of these cars for ? I know why, because I'm stupid, stupid, stupid.
My next Ford.....
Currently Active Users Viewing This Thread: 1

(0 members and 1 guests)
Posting Rules

You may not post new threads

You may not post replies

You may not post attachments

You may not edit your posts

---

HTML code is Off

---