Discussion Starter
·
#1
·
SILVER BULLET
By Mark J. McCourt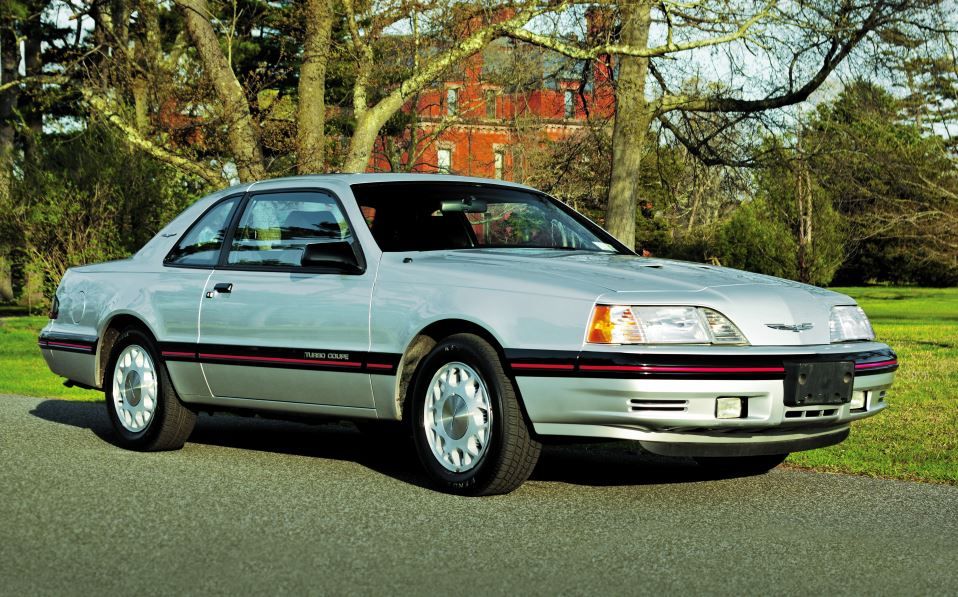 SHARE
1987 Ford Thunderbird Turbo Coupe
It was supposed to be a simple nip and a tuck. A set of flush-mounted composite headlamps, some restyled taillamps, and the obligatory fresh alloy wheel design. Ford's initial plan for the mid-cycle facelift of its ninth-generation Thunderbird was modest, until everything changed. It took $250 million and years of engineering work, but the top-performing 1987 Turbo Coupe was transformed into a world-class grand touring car.
When the 1983 Thunderbird was unveiled, it had represented a new concept and a huge leap in design language. Banished were the formal, ruler-straight body panels and overstuffed velour boudoir interiors that defined this model through the Seventies; in their place were wrap-over doors, windswept curves, and an efficient cabin. The traditional V-8 engine was actually less powerful than one with half the cylinders, that mated to a manual transmission, the first such available in this model since 1960. While traditionalists were shocked by these radical changes, they had little choice but to accept them, as Ford would, year by year, introduce new models and designs in this same vein.
The top-of-the-line Turbo Coupe, a mid-1983 introduction, used a 145-horsepower version of the fuel-injected, Garrett-turbocharged 2.3-liter (140-cu.in.) SOHC four-cylinder that had debuted in carbureted form in the 1979 Mustang and Capri. Indeed, this car shared more than its engine with Ford's pony car; it rode on an extended, 104-inch-wheelbase version of the Fox platform, and used the same "Quadra-Shock"-damped live rear axle, front disc/rear drum brakes, and five-speed manual or three-speed automatic transmission. It was polarizing at first, but the Euro-flavored variant won new fans and sales for the marque. And Ford opted to take its model year 1987 update to an even higher level knowing a radically new, BMW 635CSi-inspired all-new Thunderbird would be introduced just two years later, adding technology and further-improved aerodynamics to bridge the gap between the current and the future.
Floral Park, New York, resident John Bianco distinctly remembers the first time he saw that redesigned Turbo Coupe in person, thanks to his brother, who managed a Ford dealership in the 1980s. "He would bring home new models—Mustangs, Crown Victorias, Escorts. It was at night when he pulled in with a Turbo Coupe. That car was optioned out… I'll never forget how the dashboard and console were lit up like the cockpit of a personal aircraft. The fit and finish were especially good for a Ford, and I was impressed by the design," he says. This self-professed "Ford guy" was already fond of the Thunderbird, having ridden as a youth in 1964 and '78 models and absorbed their special characteristics, and he knew the latest example represented something else entirely.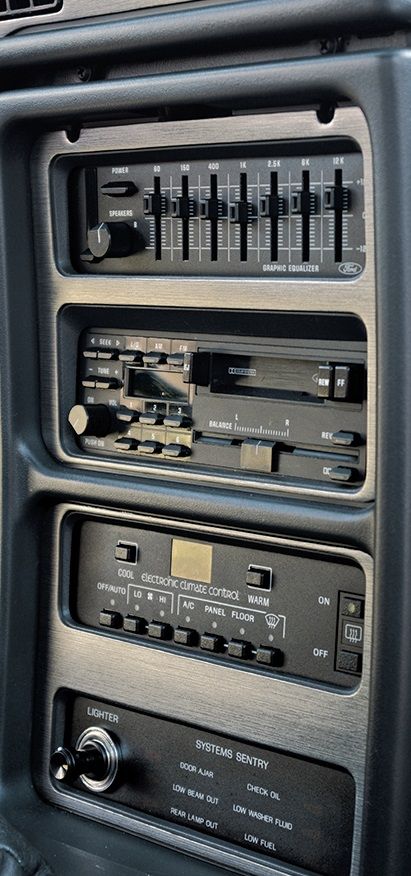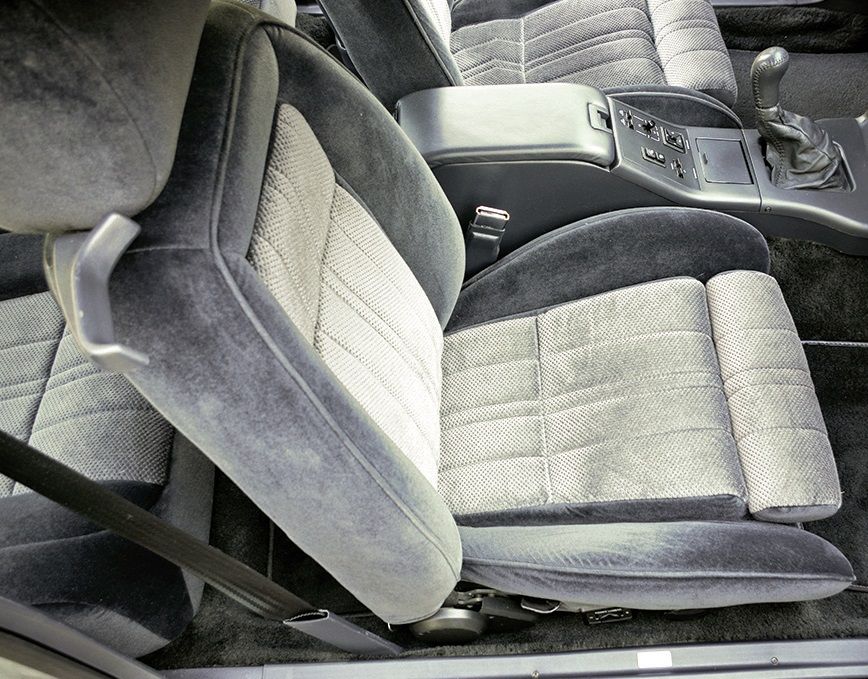 Articulated sport bucket seats complemented the five-speed manual.
The magazine testers were equally impressed by the big two-door, whose development budget ended up 21/2 times higher than originally planned.
Car and Driver
wrote, "it was money well spent. A load of new stuff—good stuff—is baked into the Turbo this year."
Motor Trend
obviously agreed, awarding it 1987 Car of the Year. From the familiar, yet notably revised skin, with its flush-mounted glass, ducted hood, bottom-breather nose, and smooth tail, to the interior, with articulated sport seats and still-fresh dashboard (carried over from a 1985 restyle) housing comprehensive instrumentation and a boost gauge, the Turbo Coupe looked the business. Ford engineers ensured there was substance to the style, since the car sported a then-impressive drag coefficient of 0.35, with the base Thunderbird even slicker at 0.34.
And it had the goods, too. The 1987 model retained the tried-and-true 2.3-liter four-cylinder, but this five main-bearing engine was upgraded with an IHI turbocharger, top-mount intercooler, and improved intake and exhaust plumbing to create 190 hp at 4,600 rpm and 240 lb-ft of torque at 3,400 rpm, those figures up substantially from the previous year, and a stone's throw from the 200 hp made by the final 2.3-powered Mustang SVO. Turbo Coupes neutered by the optional four-speed automatic made 150 hp at 4,400 rpm and 200 lb-ft of torque at 3,000 rpm. For comparison, the Thunderbird's available 5.0-liter (302-cu.in.) V-8 made the same 150 hp, but trounced the turbo's torque with 270 lb-ft. As with last year's model, if using lower- octane gasoline, the driver could manually limit peak boost via a dash-mounted switch.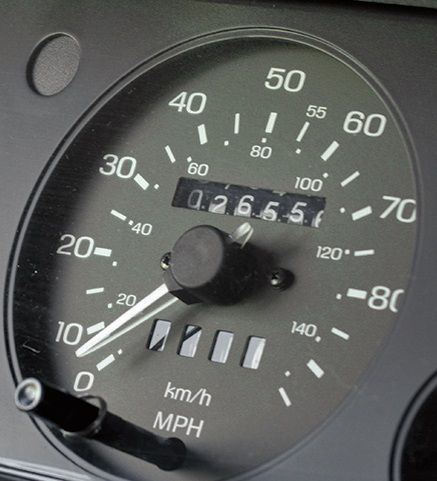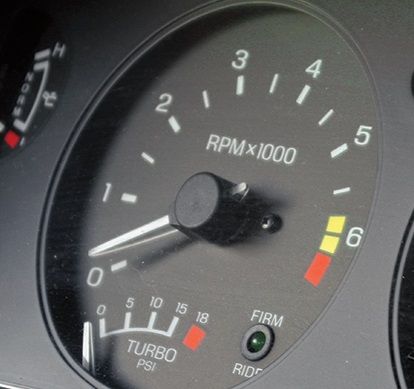 The suspension of the top T-Bird would inspire its own SAE Technical Paper Series dissertation that explained the form and function of the patented Programmed Ride Control system. The microprocessor-controlled active front gas struts and rear shocks could be optimized for nimble handling ("Firm"), or biased towards a smooth ride ("Automatic"), selectable by dash control, and they acted upon signals from the accelerator, brakes, steering position, and wheel speed sensors to predict and react to the road surface in about 40 milliseconds. This new electronic suspension dovetailed with the equally new anti-lock braking system, acting on four-wheel discs, the rear pair replacing the prior year's drums behind bold, 16 x 7-inch alloys mounting special compound 225/60VR16 Goodyear Eagle radials.
In its optimal five-speed state, the 3,380-pound '87 Turbo Coupe was found by
Car and Driver
to be capable of 0.80 g on the skidpad, 0-60 mph in 8.0 seconds, and a 137-mph top speed. These figures didn't compare favorably with those of the 225 hp, 5.0-powered Mustang GT, but that quicker, cheaper ($11,835 versus $16,805 base MSRP, or roughly $26,750 and $37,983 in today's money) car was aimed at a much different buyer. Indeed, John—who is the second owner of this 100-percent stock, sub-30,000-original-mile example on these pages— bought a new Mustang GT convertible himself, in 1989. "But that Thunderbird always stayed with me," he admits.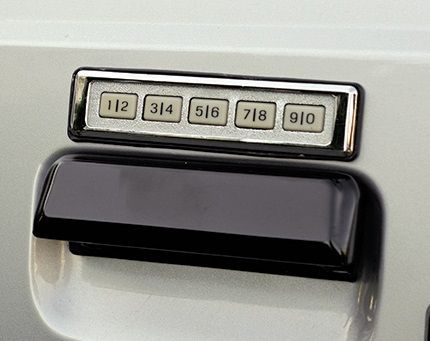 Keyless entry and premium stereo with graphic equalizer were popular options.
A handful of classic and modern Mustangs— and a 1986 Lincoln Mark VII LSC driven by his wife—have resided in John's garage, but it wasn't until October 2017 that he found our feature car at a Ford dealership in Minnesota. "They were asking a ridiculous amount for it. After it sat for a while, I was able to negotiate a price that was more down to earth." This car's 88-year-old first owner had passed away three years earlier, and his family had consigned the little-used Turbo Coupe. Upon his purchase, John had the dealer's technicians replace the engine seals, perform a tune-up, and replace the factory-installed tires and mufflers, the latter of which had rusted from the inside. "When it arrived," he recalls with a smile, "I found it to be a lot nicer than I'd imagined- it was in showroom condition."
According to the original window sticker, this now 33-year-old car had cost nearly $19,000, the equivalent of just under $43,000. It was one of 15,537 five-speed Turbo Coupes built in a year when Ford sold 128,138 Thunderbirds. Curiously, it sports a post-factory-installed Webasto tilt-and-slide moonroof, the same style as optionally fitted on the assembly line; contacting the original selling dealer to learn more about this add-on proved fruitless. Regardless, this survivor is a window into a time when the Ford Motor Company sold more than trucks and SUVs.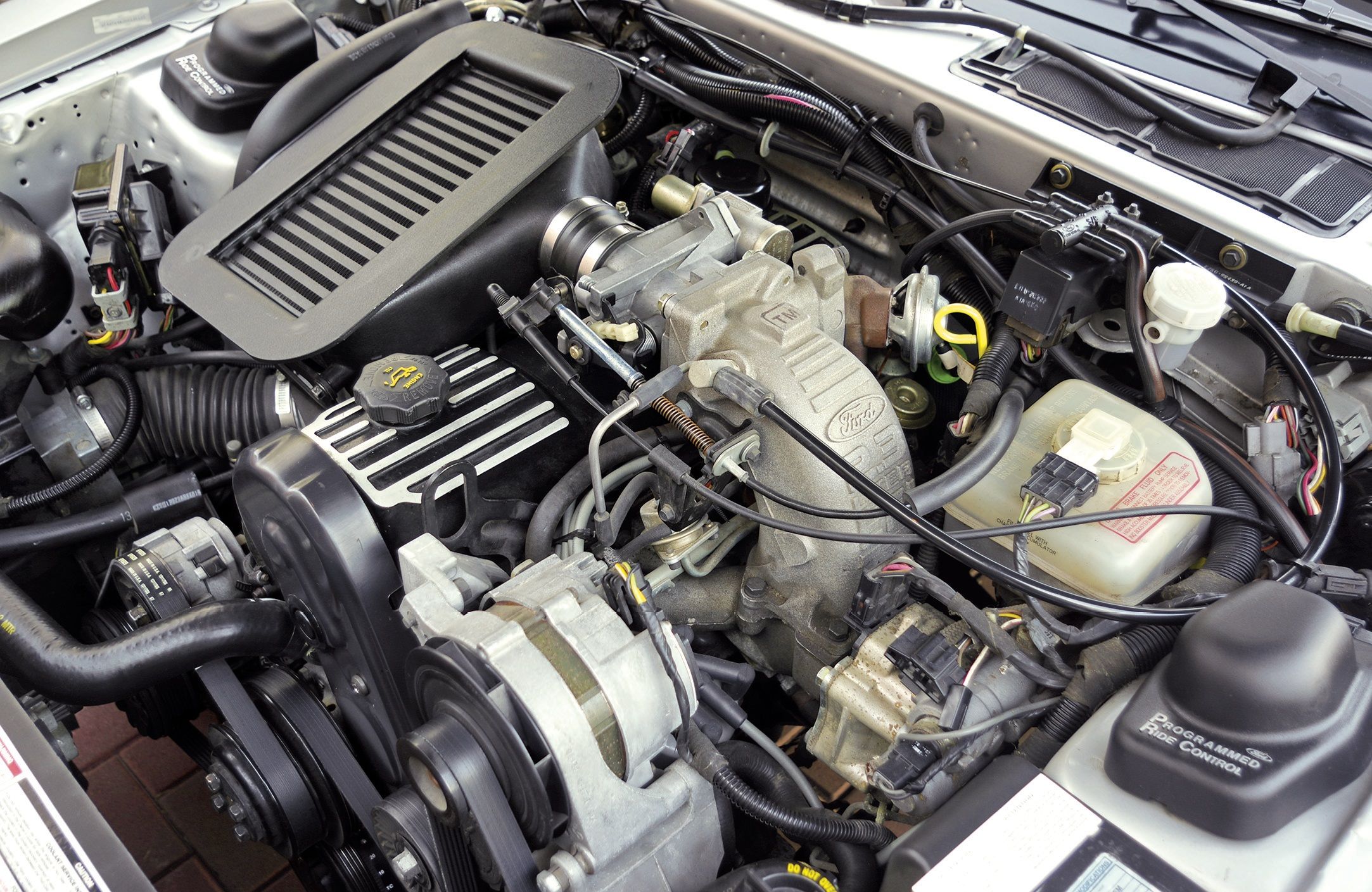 This 2.3-liter SOHC four-cylinder sports a top-mounted intercooler, fed through functional hood scoops. The manual Turbo Coupe could hit 137 mph in 1987.
"Given its low mileage, it drives like a new car," John explains. "This is a Fox body Thunderbird sharing the same chassis as the Mustang of the day. The turning radius is broad, which was also a characteristic of the Mustang, but the steering is responsive. The car can feel a bit 'boaty' on the highway when the suspension isn't set to Firm. When set to Firm, there is more confidence in fast turns. It has an excellent demeanor on the highway, very forgiving on the smaller bumps."
He continues, "Idling will send ripples through your coffee, which was even typical in my 1986 Mustang SVO; that slight vibration was a hallmark of the Lima-built 2.3. As was usual for the day, there is some initial turbo lag, up to about 2,000 rpm. Once it's boosting, you can feel the g-forces sucking you back— it reminds me of riding the Coney Island Cyclone roller-coaster. At highway speeds, the throttle is very responsive and accelerates with little effort, since at those rpm, the boost is always at the ready. But you can drive that 2.3 like an economy car… if you don't get into the boost, you can get close to 30 mpg. Goose the boost, though, and the car really goes."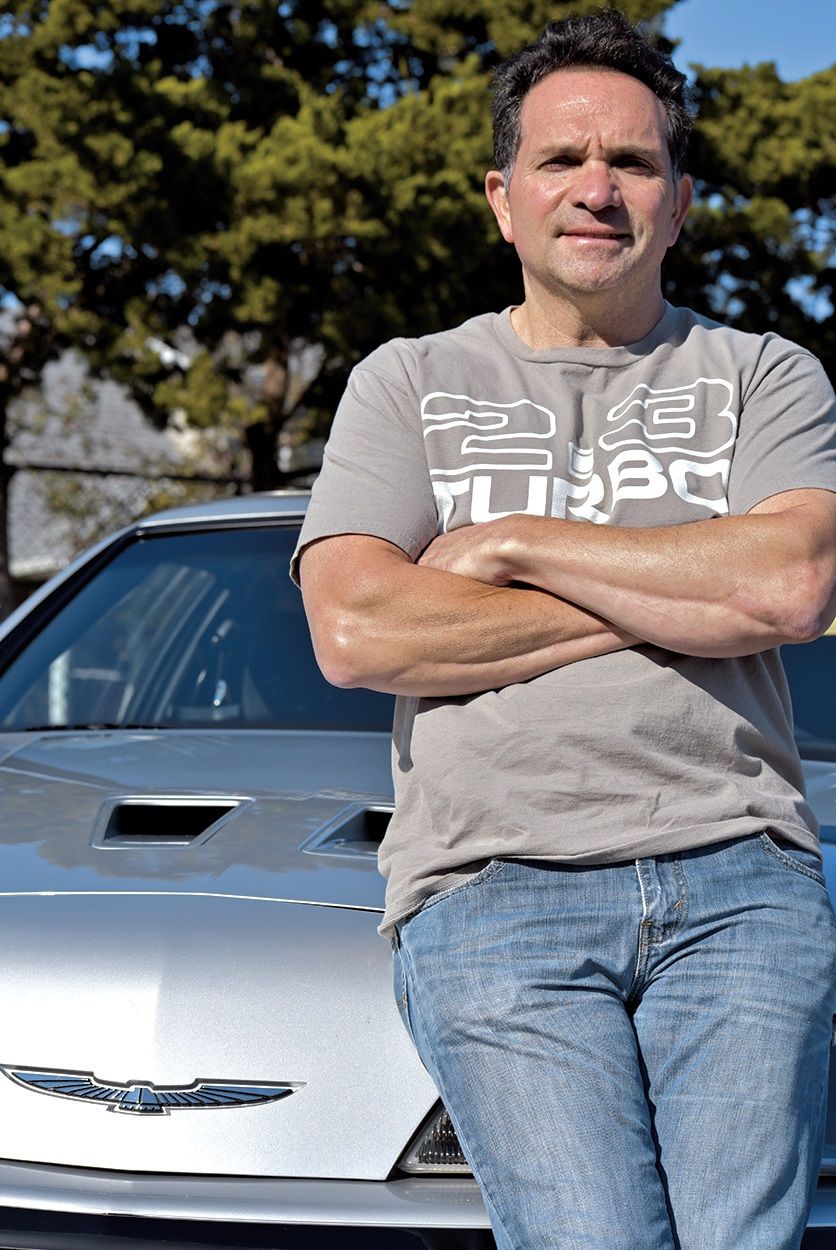 The incredible condition of this collector-quality Aero Bird means it now only comes out for special occasions, but the Turbo Coupe still has the power to take its owner back to that long-ago night in the family driveway. "This car is my time machine to when I was 22 years old. I loved the 1980s, and this car is emblematic of the styling and technology of the time," John says. "Thunderbird had many faces and personalities throughout its life. For me, the T-Birds from 1983 to 1988 capture the best of those faces and personalities."