Discussion Starter
•
#1
•
Hey guys, it's me again, yep, another problem with the '70. RUST, and it's enough to make me pretty nervous. Both the driver and passenger side floor pans are shot, and I'm just looking for a a good plan that I can execute without spending a ton of money all at once.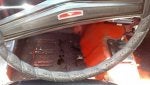 (Hopefully those attachments came out alright) as you can see, I have some pretty heavy work to do. My plan is to thoroughly clean and disassemble everything around the damage, then take it to my friends' body shop to get it all cut out and the new panels welded in. I'm seeing a few possible issues with this.
1. My car's undercoating is still largely intact, I'm guessing it will all need to come off before I have the panels cut and welded.
2. There is a hydraulic line running near my driver side seat support, is this easy to remove?
3. The rust has eaten through my driver's side seat support too, I can't find a supplier for this part so the rust may need to be cut out and a patch bent and welded to match.
4. No, I'm not getting rid of the car, it's my first car and I refuse to abandon it.
5. The patch panels I've found are longer than the rust spots I have, is it better to cut the panel to fit the car or the car to fit the panel?
6. I'm having trouble finding replacements for the little rubber seat bolt access plugs, does anyone know a source for these?
I really want to do this right, but I don't know much about sheet metal repair so any tips you can send my way or books or youtube videos would be appreciated.