Discussion Starter
•
#1
•
I have a 1997 Grand Marquis. It had a misfire a few months ago in cylinder #5. I changed all plugs, and saw there was oil on the plug, above the seal. That is, it must have benn in the spark plug well. There was no oil on the threads, or the electrode.
The misfire went away,
Then two days ago, I started getting a backfire, from near the engine compartment, and a slightly stumbling idle.
Pulled plug #5, and there was oil on it again. (see picture). I cleaned it, and the backfire stopped.
Two days later I noticed a slight stumble, and pulled the plug, and the oil was there again.
I am assuming the misfire (two months ago), and the current backfire, and stumble, are related to this #5 plug. I did see a misfire code tow months ago, but as threre was not misfire (yet, anyway) for this plug this time.
Where is oil coming from? valve cover?
This is the clean plug:
This is the oiled plug: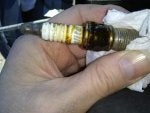 This is a picture of the plug pars (roughly the same as mine, the oil is above the area labeled 'SEAL SURFACE'):
The spark plug hole is NOT in the valve cover:
https://www.fordforums.com/attachment.php?attachmentid=50198&stc=1&d=1547784316