Discussion Starter
•
#1
•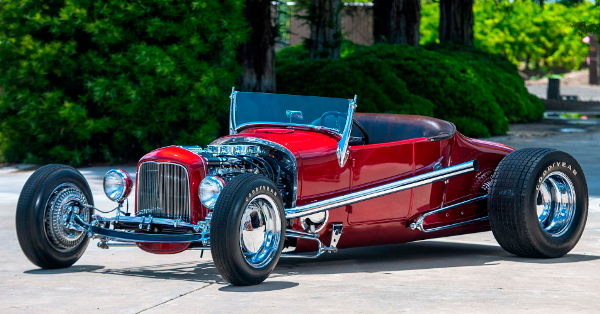 Named America's Most Beautiful Roadster way back in 1953, the Dick Williams '27 Ford Model T roadster is a true pioneer among American hot rods.
Here today, gone tomorrow. In hot rodding, history can be a fragile thing. Sadly, only a relative handful of cars from the earliest days of the sport have survived to the present. Fortunately, this one, a 1927 Ford roadster built by Northern Californian Dick Williams, is still with us today. With a few updates over the years, including the paint and wheel/tire combination, the pioneer hot rod is much as it was in 1953, when it earned America's Most Beautiful Roadster (AMBR) honors at the annual National Roadster Show in Oakland, California.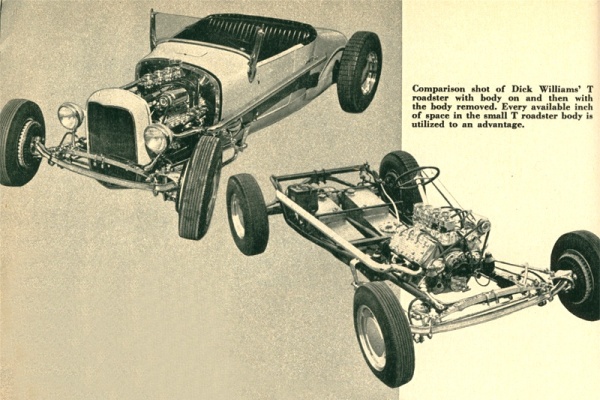 Above: This old clipping from a 1953 issue of
Hop Up
magazine (a Southern California publication that was later merged with
Rod & Custom
) shows the roadster in its original form, sporting its original blue paint and the customary tall and skinny tires of the era. As the text notes, the compact Model T-based rod was a study in efficient packaging. One show-winning advanced feature for the time was the fabricated tube frame. Most rods in those days were based on production passenger car rails—usually Ford, naturally. Like the competition track roadsters then tearing up the dirt ovals of California, the chassis featured split wishbones and a Halibrand quick-change rear axle.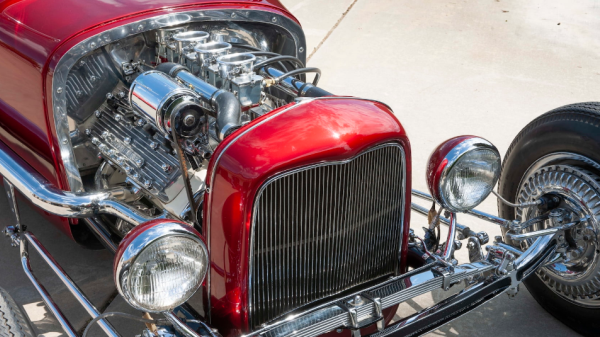 Above we can see more of the car's trick features, including the Kinmont disc brakes. (Unlike modern caliper disc brakes, Kinmonts employed a pressure-plate arrangement similar to an automotive clutch.) Note the bulldog-style (aka suicide) spring mount, which achieves a down-low ride height with a stock Ford Model A front axle. The '48 Mercury engine, bored and stroked to 286 CID, sports Offenhauser high-compression heads, four Stromberg carbs, and dramatic tubing headers with exits back near the rear tires. At Bonneville, Williams was clocked at 123 mph and change, a respectable speed for a flathead-powered street roadster.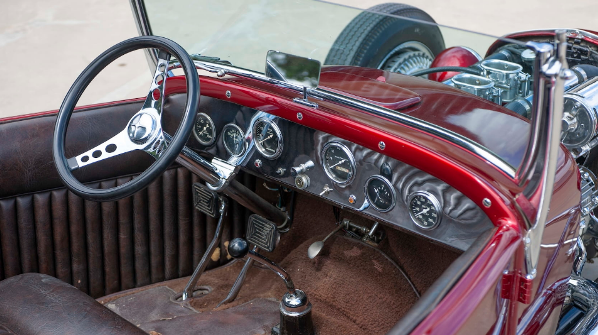 The cramped and cozy cockpit includes a pre-1940 floor-shifted Ford gearbox and a chrome-plated panel that houses six Stewart Warner mechanical instruments (nine, originally). At some point the original sprint car-style steering wheel was swapped for a more recent hot rod accessory piece. A chopped and chromed Ford Model T windshield provides a minimum of protection from the elements.
Originally finished in robin's egg blue when it won the AMBR in '53, the roadster was repainted by subsequent owners—black at some point, followed by candy apple red, while the original wheels, Lincoln rims welded to Mercury centers, and tires were replaced with trendy (for the '70s) deep-dish chrome wheels and wide Goodyear rubber.
For the car's preservation all these years we can thank another hot rod pioneer, the late Blackie Gejeian, who added it to his own collection of historic rods. When the Gejeian collection was sold off at the
Mecum Monterey sale
in August of 2019, another well-known enthusiast and collector, Ross Myers, snapped it up for $149,600—quite a bargain, in our opinion. According to
an interview
with hot rod journalist and historian Ken Gross, Myers is restoring the roadster to its original 1953 configuration, and plans to unveil it at the Grand National Roadster Show in Pomona in 2021.
–Photos courtesy of Mecum Auctions.