Discussion Starter
·
#1
·
Comments: 83
In our latest edition of
This or That,
we're continuing our selection of hero cars, though this time from blockbuster movies made in the Sixties. There were a high number of productions that focused on the cars as much as the stars - some far more memorable than others - and to that point, we've picked four that stand out for obvious reasons. Let's take a look at this week's impact performers, in order of silver screen appearance
1964 ASTON MARTIN DB5

The 1964 release of
Goldfinger
was a blockbuster, bringing widespread attention to Agent 007's Aston Martin DB5, highly modified by Q-Branch. It could be argued that the Aston, throughout its use in the first half of the movie, became the benchmark for all spy cars that followed, especially so when all of its custom-installed equipment was highlighted in a number of scenes. Lest we forget, the DB series of Aston Martins, including the DB4, already had a fine grand touring reputation among contemporary enthusiasts. The DB5 -
such as this rare convertible from 1964 we found for sale
- was refined just enough, and today it remains one of the quintessential models produced by the automaker. According to portions of the seller's description:
Unveiled to the world in 1963, the DB5 featured beautiful aluminum coachwork in the famous Superleggera style and significant mechanical upgrades over the DB4 including a new four-liter engine, improved ZF gearbox, Girling disc brakes, and standard electric windows. Between 1963 and 1965 Aston Martin built just 1,021 examples of the DB5, a total that includes 123 of the ultra-rare DB5 Convertibles. From this extremely limited production, a mere 39 Convertibles were specified in the more popular left hand drive configuration. As documented by the factory build sheet, this rare Aston Martin was specified in the gorgeous color combination of Black over Terra Cotta Connolly leather upholstery. Other noteworthy factory options include Normalair air conditioning, Power Lok differential, Blaupunkt radio, Britax seatbelts, and chrome wire wheels wearing Dunlop whitewall tires. Originally delivered to the well-known US distributor J.S. Inskip in February 1964, this DB5 Convertible was the car displayed at that year's New York Auto Show. In 1977, American businessman Peter Sprague purchased the DB5 Convertible, which is notable as he was the very gentleman who helped save Aston Martin in 1975, when he and George Minden purchased the company out of receivership. While the DB5 Convertible was in his ownership, the factory supplied him a replacement engine for the car. This was no ordinary engine, but rather was the most powerful Vantage engine ever produced – a VC series unit – with triple Weber carburetors, greatly improving the performance of the DB5 Convertible. This rare engine, number 400/4711/VC, remains in the car today. Other than a repaint in the factory black color, this DB5 remains in amazingly original condition, including the nicely worn leather interior. It has always been serviced by Aston Martin experts, shows less than 65,000 original miles. It is offered with a copy of the factory build sheet, workshop and parts catalogs, tool kit, and jack.
Price
$1,750,000
Location
Astoria, NY
Availability
Available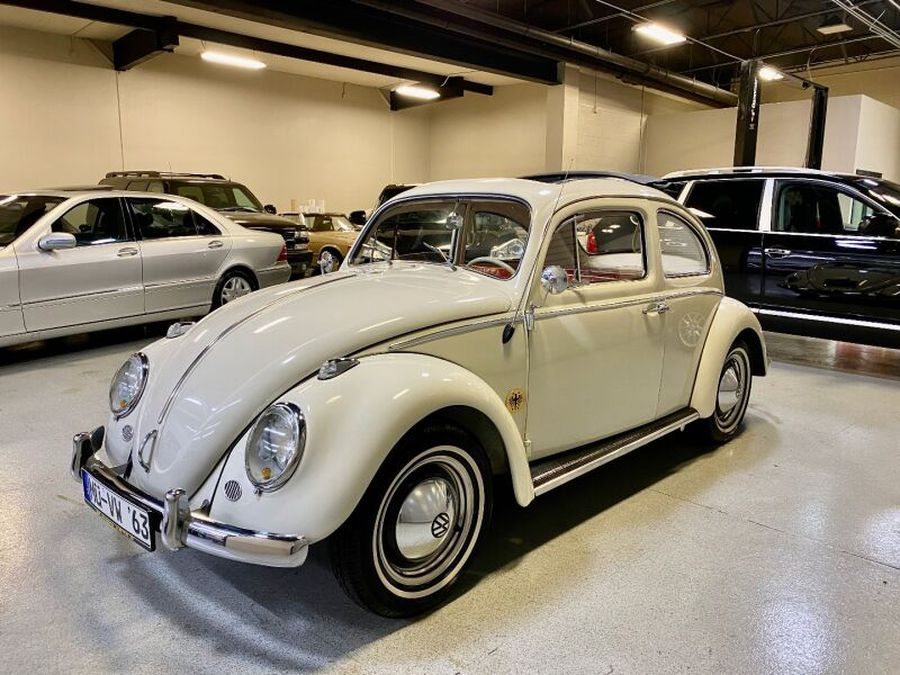 1963 VOLKSWAGEN BEETLE
Later in the decade, racing movies were suddenly everywhere. Some were serious, others had a comedic tone. In the latter category was the 1968 release of
Herbie the Love Bug
, which starred a
1963 Volkswagen sunroof-equipped Beetle, similar to this one we spotted for sale
.
Herbie
was quite unassuming at first, but it didn't take long for its positive personality to become apparent. A little bit of film speed creativity made the VW look a lot faster than it was, but it served the comedic drama nicely as it raced against the film villains.
Herbie the Love Bug
, of course, remains a cult classic. According to portions of the seller's description:
Beautifully finished in Pearl White with real Red leatherette interior...1963 was the last year for the ragtop with the metal sunroofs coming out in in 1964. This car is stunning inside and out older complete restoration that still presents very well; paint, body and interior all in outstanding condition. Just came out of a higher end car collection. NO rusty floorboards! Front under bonnet area extremely nice; undercarriage is remarkable. Strong mechanicals with upgraded 1600cc engine (AE code 1971 Dual Port) gross 60 hp cruises effortlessly! Has it s Volkswagen Birth Certificate.
Price
$29,995
Location
Scottsdale, AZ
Availability
Available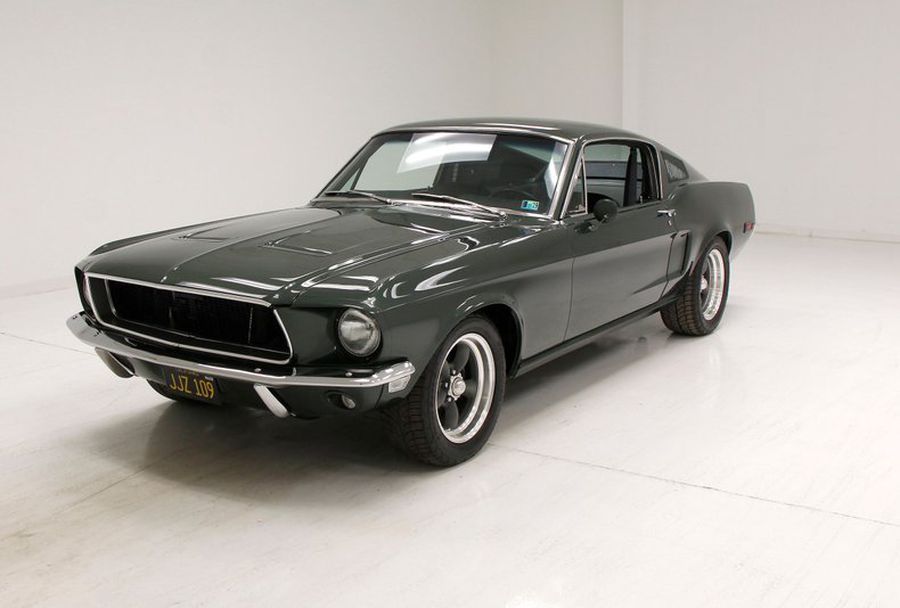 1968 FORD MUSTANG FASTBACK
Serious crime thrillers were still a staple for 1960s Hollywood, and in 1968
Bullitt
hit theaters with resounding results. There really isn't a whole lot one can add to this discussion; the impact of both the Ford Mustang and Dodge Charger careening through the streets of San Francisco was enough to keep everyone on the edge of their seats, at a time when John Q. Public could leave the movie and drive right to the dealership to buy an example of either off the lot. Aside from
Goldfinger
,
Bullitt
is arguably one of the most celebrated films of the decade. In the years since, plenty of
1968 Bullitt clones have been built, including this interesting example for sale
. According to portions of the seller's description:
In the name of full disclosure this car started life as a hardtop and underwent a massive transformation to become the fastback seen before you. Exterior: From the blackened front horizontal ribbed grille, shaved of its galloping pony, to the single headlight on either side, up through the hood complete with rear facing dual cowls with inset turn signal indicators, we are bathed in Highland Green . The sloping rear roof line has louvered B pillar vents. Restored chrome and brightwork, and classic American Racing matte gray 5 spoke wheels. Interior: a pristine black vinyl interior seating setup of a 2 plus 2... a Hurst shifter between the standard low back buckets. Looking at the dash, we see dual eyebrow cowled padded black vinyl dash tops, wood appliqué, and new round analog/digital gauges. Drivetrain: A proper consigner stated 393ci V8 which started life as a 351ci Windsor V8 and has now been bored and stroked. This is topped by Blue Oval Performance heads, headers, shiny Ford valve covers, and a single 4-barrel Quickfuel carburetor over an Edelbrock polished intake. Attached at the back is a 5-speed manual transmission by Tremec, and a rear axle of 8.8 inches with 4.11 gears.
Price
$95,000
Location
Morgantown, PA
Availability
Available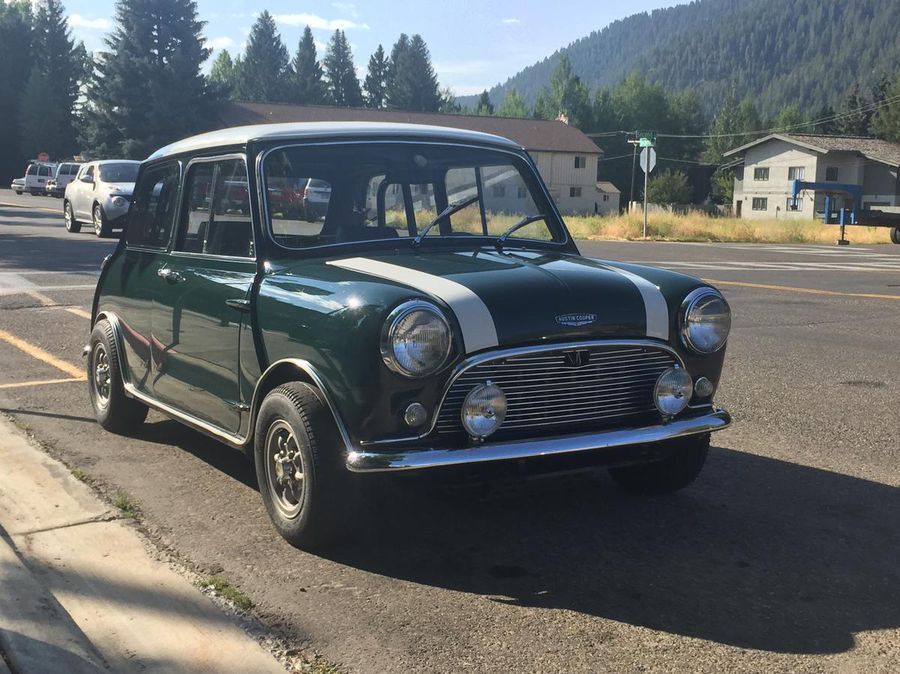 1967 AUSTIN MINI COOPER S MARK II
A year after
Bullitt
hit the big screen, actors Michael Caine, Benny Hill (yeah, really!), and a host of others performed a comedic heist in
The Italian Job
, which featured a trio of
1967 Austin Mini Coopers, like this example for sale
. According to lore, the owners of Austin, British Motor Corporation, had no interest in donating any Minis to the production, prompting Fiat to step in and offer not only a series of its vehicles, but also the testing grounds that were used in the film's chase scene. Minis, of course, were used - being a British film - but Fiat remained a huge contributor to the production. Rumor has it Turin's local underground network also stepped in to assist when local elected officials refused. Whether that's true or not,
The Italian Job
kept Mini Coopers in the headlines. According to the seller's description:
Left hand drive. Complete frame off restoration 2017. Body, trim, chrome, interior, and wheels reconditioned. Complete engine rebuild. New suspension, new brake master cylinder. New floor mats and interior carpeting, racing seats, racing steering wheel, painted British Racing Green, roll bar, Lucas fog lights. Larger more powerful factory approved 1275cc engine slightly modified for more performance including larger carburetor. Engine cut off switch. Owners manual. Car cover.